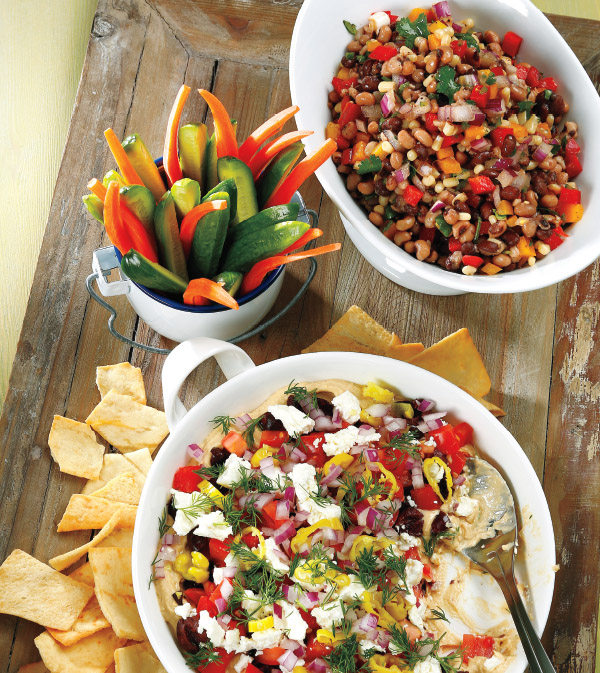 Shop Ingredients Click to See How-To Video!



Cowboy Caviar
Prep: 20 minutes • Serves: 16

2
cans (15 ounces each) black-eyed peas, rinsed and drained
1
can (15 ounces)
PICS black beans
, rinsed and drained
1
can (11 ounces) white shoepeg corn, rinsed and drained or 1 ear fresh corn, kernels cut from cob (about 1 cup)
4
garlic cloves, minced (4 teaspoons)
2
red and/or yellow bell peppers, finely chopped (about 2 cups)
1
small jalapeño chile pepper, seeded if desired, and finely chopped (about 3 tablespoons)
1/2
large red onion, chopped (about 1/2 cup)
1/4
cup coarsely chopped fresh cilantro leaves
3/4
cup
Full Circle apple cider vinegar
1/2
cup
PICS olive oil
3/4
teaspoon
PICS salt
1/4
teaspoon
PICS ground black pepper
1. In large bowl, toss black-eyed peas, black beans, corn, garlic, bell peppers, jalapeño, onion and cilantro until well combined.

2.In medium bowl, whisk together vinegar, oil, salt and black pepper.

3.Pour vinegar mixture over black-eyed pea mixture and toss to combine. Cover and refrigerate at least 6 hours or up to 1 day. Toss just before serving. Serve with scoop-style tortilla chips or as a side dish. Makes about 8 cups.


Approximate nutritional values per serving: 

145 Calories, 7g Fat (1g Saturated), 0mg Cholesterol,
411mg Sodium, 17g Carbohydrates, 4g Fiber, 5g Protein

Chef Tip:
Include the seeds and veins of the jalapeño chile pepper to add more heat to the mix.