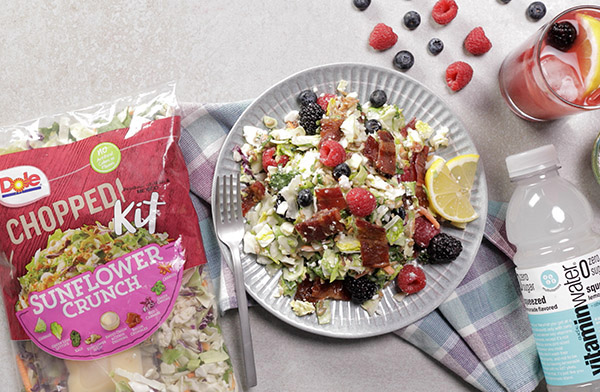 Summer Berry & Candied Bacon Cobb Salad
Prep: 15 minutes plus cooling
Bake: 20 minutes • Serves: 6
Summer Berry & Candied Bacon Cobb Salad
3/4
cup packed brown sugar
6
slices thick-cut bacon
2
packages (12.2 ounces each)
DOLE® Sunflower Crunch Chopped Kit
1/3
cup fresh blackberries
1/3
cup fresh blueberries
1/3
cup fresh raspberries
1
cup crumbled goat cheese
1
small lemon, halved crosswise and thinly sliced crosswise
Berry Lemonade
1/2
cup fresh blackberries
1
bottle (20 fluid ounces)
Vitaminwater® Zero Sugar Squeezed Lemonade Flavored
Ice
Lemon wedges for garnish (optional)
Summer Berry & Candied Bacon Cobb Salad
1. Preheat oven to 375°; line rimmed baking pan with aluminum foil and wire rack. Place sugar in wide, shallow dish; dredge bacon in sugar to coat and place in single layer on wire rack. Bake bacon 20 minutes or until crisp; cool completely and coarsely chop.
2. Prepare salad kits as label directs; top salad with blackberries, blueberries, raspberries, goat cheese, bacon and lemon slices. Makes about 8 cups.

Berry Lemonade
3. In 60-ounce cocktail shaker, with large spoon or muddler, muddle blackberries. Add lemonade; fill cocktail shaker halfway with ice, cover and shake vigorously. Makes about 3 cups.

4. Fill 6 (8-ounce) glasses with ice. Strain lemonade mixture into glasses; garnish with lemon wedges, if desired.

5. Serve salad with Berry Lemonade.


Approximate nutritional values per serving (1-1/3 cups salad, 1 lemonade):
423 Calories, 23g Fat, 8g Saturated Fat, 32mg Cholesterol, 413mg Sodium,
45g Carbohydrates, 5g Fiber, 37g Sugars, 30g Added Sugars, 12g Protein