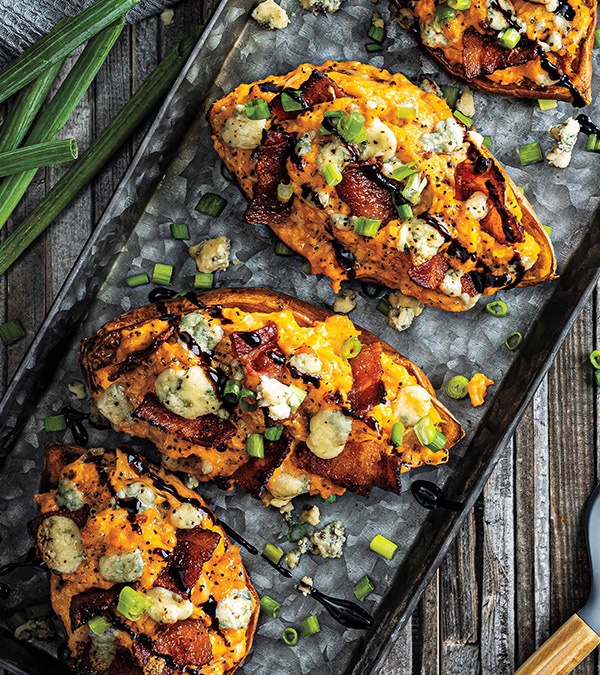 Elevated Twice-Baked Sweet Potatoes
Prep: 20 minutes
Cook/Bake: 1 hour • Serves: 8
PICS nonstick cooking spray
4
medium
Market 32 sweet potatoes
4
slices
PICS thick-cut smoked bacon
, chopped
1-1/2
tablespoons
PICS unsalted butter
2
medium yellow onions, thinly sliced
3/4
teaspoon
PICS salt
3/4
teaspoon
PICS black pepper
1
cup
PICS sour cream
1/2
cup
PICS crumbled blue cheese
1/4
cup
Full Circle balsamic glaze
Sliced green onions for garnish (optional)
1.Preheat oven to 350°; spray rimmed baking pan with cooking spray. Cut potatoes lengthwise in half; place cut side down on prepared pan. Bake 45 minutes or until tender; cool slightly.

2. In large skillet, cook bacon over medium-high heat 5 minutes or until crisp, stirring occasionally; transfer to paper towel-lined plate.

3. Drain drippings from skillet. Add butter; melt over low heat. Add yellow onions, 1/4 teaspoon each salt and pepper, and 2 tablespoons water; cover and cook 10 minutes. Uncover; cook 7 minutes or until very soft, stirring occasionally.

4. When potatoes are cool enough to handle, with spoon, leaving at least a 1/4-inch wall, scoop out inside portion of each potato half into large bowl; return potato halves, skin side down, to same pan. With fork, mash potatoes in bowl until small lumps remain. Fold in sour cream, bacon, caramelized onions, and remaining 1/2 teaspoon each salt and pepper. Spoon potato mixture into potato halves; sprinkle with cheese. Bake 15 minutes or until cheese is golden brown and potatoes are heated through.

5. Serve potatoes drizzled with balsamic glaze; garnish with green onions, if desired.


Approximate nutritional values per serving (1 stuffed potato half):
209 Calories, 12g Fat, 6g Saturated Fat, 35mg Cholesterol, 452mg Sodium,
21g Carbohydrates, 2g Fiber, 10g Sugars, 0g Added Sugars, 6g Protein