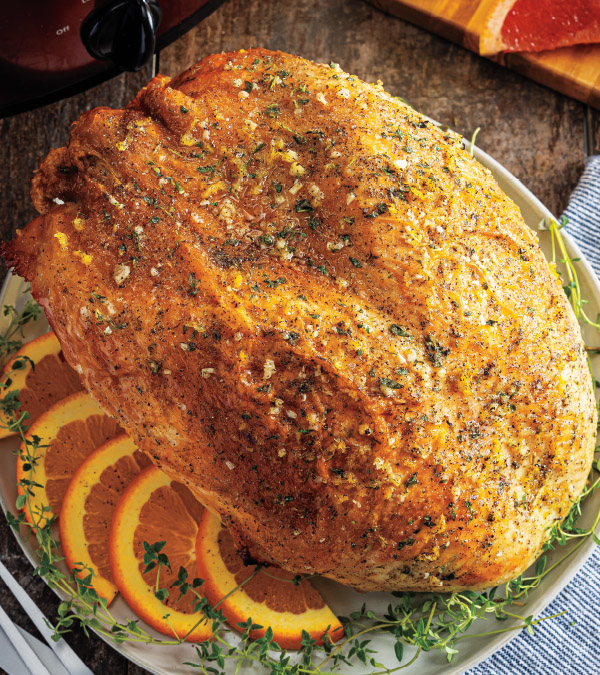 Slow Cooker Citrus-Beer Turkey Breast
Prep: 15 minutes
Slow Cook: 4 hours • Serves: 12
1
garlic clove, minced
2
tablespoons
PICS olive oil
1-1/2
teaspoons chopped fresh thyme
1-1/2
teaspoons kosher salt
1
teaspoon lemon zest
1/2
teaspoon
PICS ground black pepper
1
(6- to 7-pound) bone-in turkey breast, thawed if necessary
1
medium navel orange, cut crosswise into ¼-inch-thick slices
1
bottle (12 ounces) lager or light pilsner beer
1/2
cup
PICS grapefruit juice
1. In small bowl, stir garlic, oil, thyme, salt, lemon zest and pepper.

2.Pat turkey dry with paper towels; rub with oil mixture. In 5- to 6-quart slow cooker, add turkey breast; lay orange slices over turkey breast. Pour beer and grapefruit juice into bottom of slow cooker; cover and cook on high 4 hours or low 8 hours or until internal temperature of turkey reaches 165°. Serve with drippings remaining in slow cooker.


Approximate nutritional values per serving:
375 Calories, 16g Fat (4g Saturated), 132mg Cholesterol,
354mg Sodium, 3g Carbohydrates, 0g Fiber, 52g Protein

Chef Tip
For crispy skin, transfer turkey breast to rimmed baking pan and broil on high 5 minutes or until golden brown and crisp.