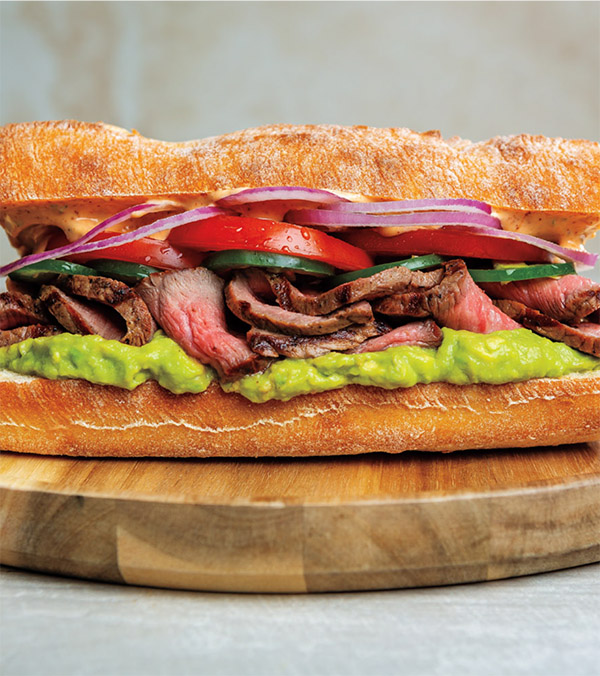 Shop Ingredients Click to See How-To Video!


Grilled Mexican Steak Torta
Prep: 15 minutes plus standing
Grill: 20 minutes • Serves: 8
1
top round London broil (about 2 pounds)
1/2
teaspoon kosher salt
1/2
teaspoon fresh ground black pepper
2
avocados, peeled, pitted and mashed
1
tablespoon fresh lime juice
1
tablespoon lime zest
2
loaves (10 ounces each) French baguette, cut horizontally in half
1/2
cup creamy chipotle ranch dip
3
Roma tomatoes, thinly sliced
2
jalapeño peppers, thinly sliced
1
small red onion, thinly sliced
3
cups cilantro sprigs
1.Prepare outdoor grill for direct grilling over medium-high heat. Sprinkle London broil with salt and pepper. Place London broil on hot grill rack; cover and cook 20 minutes or until internal temperature reaches 140° for medium-rare, turning once. Transfer London broil to cutting board and loosely cover with foil; let stand 5 minutes before slicing. (Internal temperature of steak will rise 5 to 10° upon standing.)

2.In small bowl, whisk avocados, lime juice and lime zest until smooth.

3.Spread top cut sides of bread with dip; spread bottom sides with avocado mixture. Thinly slice steak across the grain; fill bread with steak, tomatoes, jalapeños, onion and cilantro. Cut each sandwich crosswise into quarters.


Approximate nutritional values per serving:
506 Calories, 21g Fat (4g Saturated), 80mg Cholesterol,
608mg Sodium, 44g Carbohydrates, 6g Fiber, 5g Sugars, 35g Protein