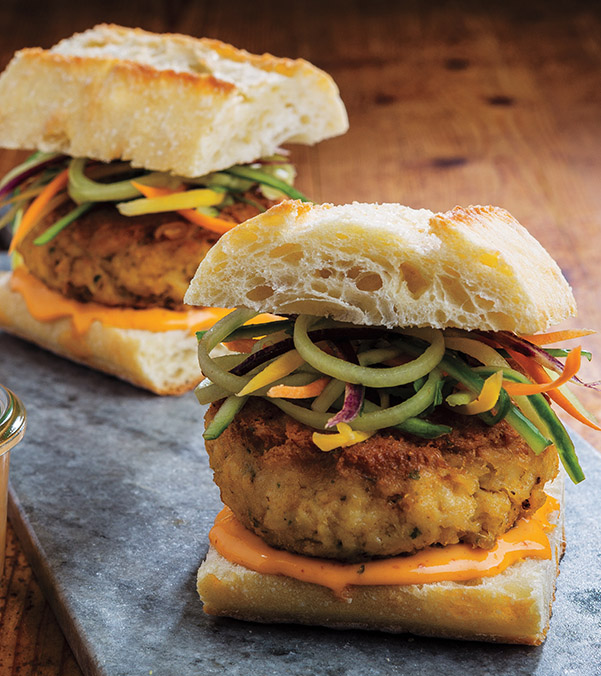 Shop Ingredients



Crab Cake Sliders
Prep: 20 minutes
Cook: 16 minutes • Serves: 8
1
English cucumber, seeded and julienned
1
cup julienned orange, yellow and/or purple carrots
1
tablespoon fresh lime juice
1
teaspoon granulated sugar
3
tablespoons creamy Buffalo wing dipping sauce
3
tablespoons light mayonnaise
2
tablespoons olive oil
8
prepared crab cakes (about 1-1/4 pounds)
1
loaf (10 ounces) French baguette, cut horizontally in half
1.In medium bowl, toss cucumber, carrots, lime juice and sugar; let stand 5 minutes.

2.In small bowl, whisk dipping sauce and mayonnaise.

3.In large skillet, in 2 batches, heat 1 tablespoon oil over medium heat; add crab cakes and cook 8 minutes or until golden brown, turning once.

4.Spread bottom half of baguette with mayonnaise mixture; top with crab cakes, carrot mixture and top half of baguette. Cut sandwich crosswise into 8 sliders.


Approximate nutritional values per serving (1 slider):
316 Calories, 18g Fat (3g Saturated), 82mg Cholesterol, 599mg Sodium,
23g Carbohydrates, 1g Fiber, 4g Sugars, 15g Protein