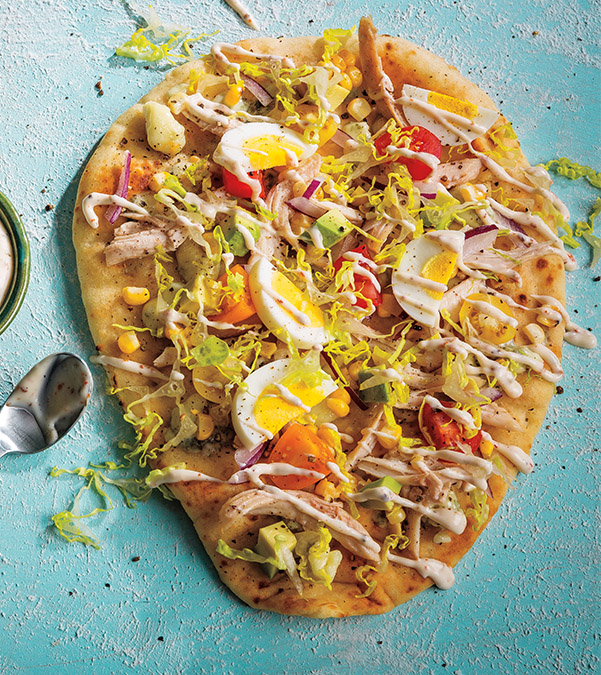 Shop Ingredients Click to See How-To Video!


Chicken Cobb Salad Naan Flatbread
Prep: 20 minutes
Bake: 10 minutes • Serves: 4
1
tablespoon olive oil
1-1/2
teaspoons red wine vinegar
1/4
teaspoon kosher salt
1/4
teaspoon fresh ground black pepper plus additional for garnish (optional)
2
plain naan flatbread rounds (8.8-ounce package)
1
cup shredded rotisserie chicken breast (about 5 ounces)
1/4
cup crumbled Gorgonzola cheese
2
refrigerated hard-cooked eggs, chopped
1/4
large avocado, peeled, pitted and chopped
1/2
cup chopped romaine lettuce
1/4
cup chopped grape tomatoes
2
tablespoons diced red onion
2
tablespoons thawed frozen roasted corn
2
tablespoons PICS Bacon Ranch Dressing
1.Preheat oven to 425°. In small bowl, whisk oil, vinegar, salt and pepper. Brush top of naan with oil mixture; top with chicken and cheese. Place naan directly on oven rack; bake 10 minutes or until edges are golden brown.

2.Top naan with eggs, avocado, lettuce, tomatoes, onion, corn and dressing; garnish with pepper, if desired.


Approximate nutritional values per serving: 

398 Calories, 18g Fat (6g Saturated), 135mg Cholesterol,
780mg Sodium, 36g Carbohydrates, 5g Fiber, 4g Sugars, 24g Protein