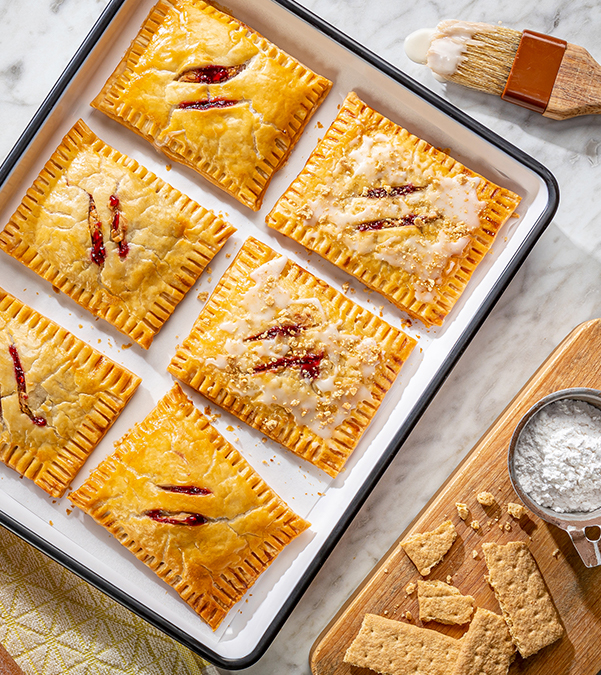 Peanut Butter and Jelly Breakfast Tart
Prep: 25 minutes
Bake: 25 minutes • Serves: 6
1
package (15 ounces)
PICS refrigerated pie crusts
PICS all-purpose flour
for dusting
1/2
cup
PICS creamy peanut butter
1/4
cup
PICS raspberry fruit spread
1
PICS large egg
1/2
cup
PICS powdered sugar
1
tablespoon
PICS whole milk
1
tablespoon finely crushed
PICS honey graham crackers
1.Preheat oven to 375°; line rimmed baking pan with parchment paper. Soften pie crusts as label directs.
2.Lightly dust work surface with flour; unroll pie crusts. With knife, cut 4 (3½ x 3-inch) rectangles from each pie crust. Gather dough scraps; with rolling pin, roll out scraps and cut 4 more rectangles. Place about 1 heaping tablespoon peanut butter and 2 teaspoons preserves in center of 6 rectangles; top each with remaining 6 rectangles, seal edges with fork and place on prepared pan.
3.In small bowl, whisk egg; brush over tarts. With paring knife, cut 2 small slits in top of each tart; bake 25 minutes or until golden brown. Makes 6 tarts.
4.In small bowl, whisk sugar and milk; carefully spread over tarts and sprinkle with graham cracker crumbs.
Approximate nutritional values per serving:
407 Calories, 23g Fat (7g Saturated), 26mg Cholesterol, 355mg Sodium, 48g Carbohydrates, 1g Fiber, 7 g Protein