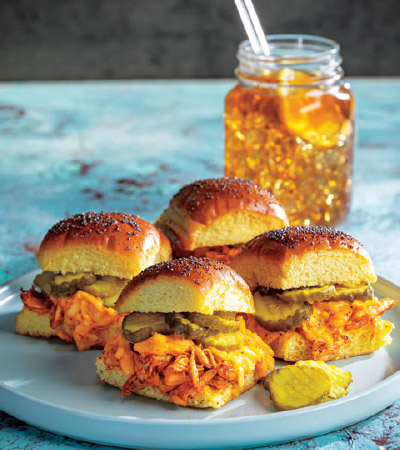 Shop Ingredients Click to See How-To Video!


Oven-Baked Nashville Hot Chicken Sliders
Prep: 20 minutes plus standing
Bake: 20 minutes • Serves: 6
PICS™ Original Non-Stick Cooking Spray
2-1/2
cups shredded
M32 Rotisserie Chicken Breast Meat
1/2
cup
PICS™ Chicken Broth
2
tablespoons
PICS™ Dark Brown Sugar
1
tablespoon ground cayenne pepper
1
teaspoon
PICS™ Garlic Powder
1
teaspoon
PICS™ Paprika
1/2
teaspoon
PICS™ Chili Powder
1
package (12 rolls) favorite Hawaiian rolls, split lengthwise
12
PICS™ Sweet Bread & Butter Chips
plus additional for garnish (optional)
1
cup pimento cheese spread
1
tablespoon
PICS™ Sweet Cream Unsalted Butter
, melted
1/2
teaspoon poppy seeds
1.Preheat oven to 350°. Spray 11 x 7-inch baking dish with cooking spray.

2.In large skillet, cook chicken, broth, sugar, cayenne pepper, garlic powder, paprika and chili powder over medium-high heat 4 minutes or until heated through, stirring occasionally.

3.Place bottom rolls, cut side up, in prepared dish; top with chicken mixture, pickles, cheese and top rolls, cut side down. Brush tops of rolls with butter and sprinkle with poppy seeds; cover dish with aluminum foil.

4.Bake sliders 15 minutes or until heated through; uncover and bake 5 minutes or until tops of sliders are lightly browned. Let stand 5 minutes; cut into sliders and serve with additional pickles, if desired. Makes 12 sliders.


Approximate nutritional values per serving (2 sliders):
378 Calories, 14g Fat (7g Saturated), 101mg Cholesterol,
606mg Sodium, 40g Carbohydrates, 1g Fiber, 17g Sugars, 26g Protein