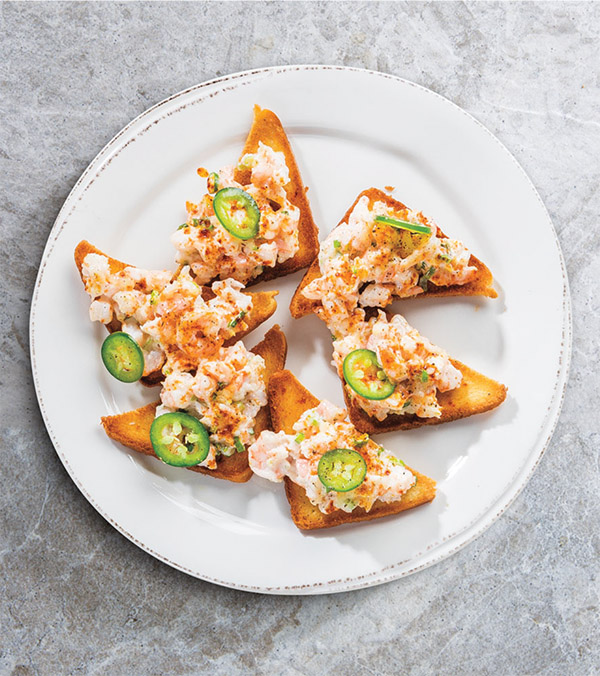 Shop Ingredients Click to See How-To Video!


Shrimp Toasts
Prep: 15 minutes
Broil: 1 minute • Serves: 4
1
package (4 ounces) frozen cooked salad shrimp, thawed and dried well (about 1/2 cup)
1/3
cup grated Manchego cheese
3
tablespoons mayonnaise with olive oil
2
tablespoons chopped green onion
1/2
teaspoon lime zest
1/4
teaspoon grated fresh ginger
1/8
teaspoon salt
1/4
teaspoon ground black pepper
4
slices very thinly sliced white bread, each cut diagonally in half, toasted
1/4
teaspoon smoked paprika
8
thin slices jalapeño pepper
1.Preheat broiler to high with oven about 5 inches from source of heat. In medium bowl, stir shrimp, cheese, mayonnaise, onion, lime zest, ginger, salt and pepper. Makes about 1 cup.

2.Spread about 2 tablespoons shrimp mixture onto each toast triangle; place in single layer on rimmed baking pan and sprinkle with paprika. Broil 1 minute or until lightly browned; garnish with jalapeño slices.


Approximate nutritional values per serving: 

239 Calories, 16g Fat (8g Saturated), 91mg Cholesterol,
479mg Sodium, 8g Carbohydrates, 1g Fiber, 1g Sugars, 0g Added Sugars,
16g Protein