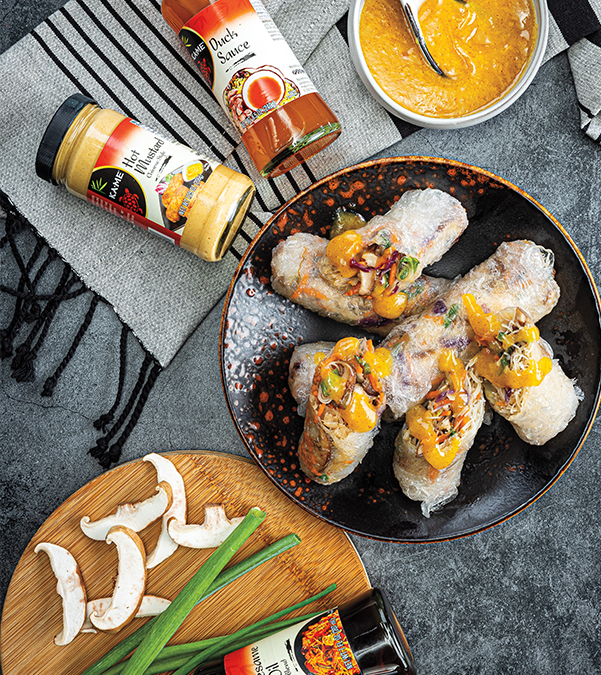 Crispy Mushroom Spring Rolls with Spicy Duck Sauce
Prep: 30 minutes
Cook: 13 minutes • Serves: 8
1/2
(8-ounce) package
KA-ME® white rice vermicelli noodles
1/3
cup
KA-ME® duck sauce
2
tablespoons
KA-ME® Chinese-style hot mustard
6
cups plus 1 tablespoon vegetable oil
2
containers (4 ounces each) shiitake mushrooms, thinly sliced
1
cup coleslaw mix
1
cup grated
Market 32 carrots
1/3
cup oyster sauce
1/4
cup thinly sliced green onions
2
teaspoons
KA-ME® Sesame Oil Blend
8
spring roll wrappers
1.Prepare noodles as label directs. In small bowl, stir duck sauce and mustard. Makes about 1/2 cup.
2.In large skillet, heat 1 tablespoon vegetable oil over medium-high heat. Add mushrooms; cook 3 minutes or until tender, stirring frequently. Add coleslaw and carrots; cook 1 minute or until carrots are tender-crisp, stirring frequently. Stir in oyster sauce, green onions and sesame oil; transfer to large bowl, add noodles and toss. Makes about 5 cups.
3.Attach deep fryer/candy thermometer to side of large saucepot; add remaining 6 cups vegetable oil and heat to 350° over medium-high heat. In pie plate or round cake pan, add warm water. Working with 1 wrapper at a time, soak wrapper in warm water 30 seconds or until flexible and transparent. Place wrapper on work surface. Arrange about 2/3 cup noodle mixture on bottom half of wrapper, leaving 1-inch border around edge of wrapper; fold sides of wrapper over filling, then roll tightly to enclose filling completely, being careful not to tear wrapper. Repeat with remaining wrappers and filling.
4.In batches, add spring rolls to oil and fry 3 minutes or until crisp, turning occasionally; with slotted spoon, transfer to paper towel-lined plate. Serve spring rolls with duck sauce mixture for dipping.
Approximate nutritional values per serving (1 spring roll, 1 tablespoon sauce):
276 Calories, 17g Fat (2g Saturated), 0mg Cholesterol, 523mg Sodium, 29g Carbohydrates, 2g Fiber, 2g Protein
Dietitian's Dish:
When damp, spring roll wrappers will stick together; keep the spring rolls apart before frying and when adding to the hot oil to prevent them from sticking and/or tearing.