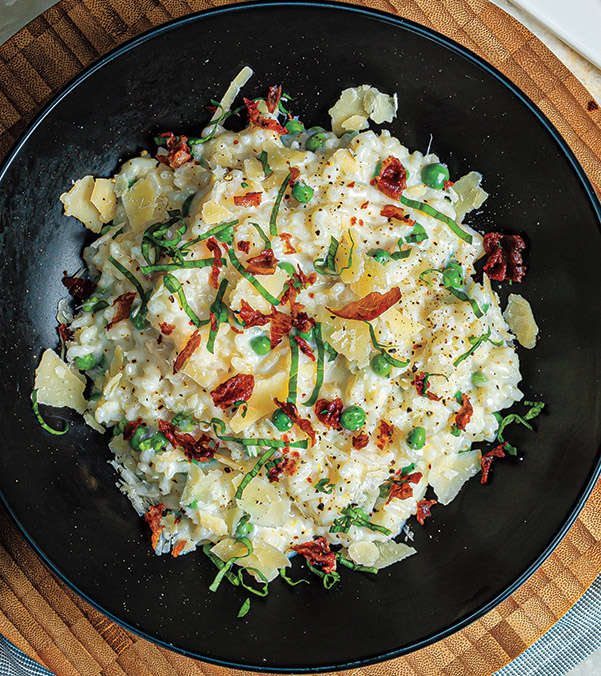 Shop Ingredients



Creamy Parmesan & Pea Risotto with Prosciutto Crisps
Prep: 25 minutes plus standing
Cook: 35 minutes • Serves: 8
1/2
cup diced shallots
1/4
cup olive oil
4
garlic cloves, minced
5
cups reduced sodium chicken broth
1
cup heavy cream
1
cup shaved Parmesan cheese plus additional for serving
1/2
teaspoon fresh ground black pepper plus additional for serving
2
slices prosciutto (about 1 ounce), coarsely chopped
2
cups Arborio rice
1
cup dry white wine such as Sauvignon Blanc
2
teaspoons lemon zest
2
cups frozen sweet peas, thawed
2
tablespoons chopped fresh basil
1.In medium saucepan, cook shallots and 2 tablespoons oil over medium-low heat 4 minutes or until shallots are soft, stirring frequently. Add garlic; cook 1 minute, stirring frequently. Stir in broth and cream; increase heat to medium and heat to a simmer, stirring occasionally. Stir in cheese and pepper; cook 5 minutes or until slightly thickened, stirring occasionally. Makes about 6 cups.

2.In large skillet, heat remaining 2 tablespoons oil over medium-high heat. Add prosciutto; cook 1 minute or until slightly crisp, turning once. With slotted spoon, transfer prosciutto to paper towel lined-plate.

3.In same skillet, cook rice 2 minutes or until lightly toasted, stirring occasionally. Add wine and zest; cook 1 minute or until wine is absorbed. Cook rice 20 minutes, adding 5 cups broth-cream mixture 1/2 cup at a time and stirring after each addition, until all liquid is absorbed and rice is tender but still firm. Stir in peas and remaining 1 cup broth-cream mixture; let stand 5 minutes.

4.Serve risotto topped with basil, prosciutto, cheese and pepper. Makes about 8 cups.

Approximate nutritional values per serving (1 cup):
467 Calories, 22g Fat (10g Saturated), 49mg Cholesterol,
658mg Sodium, 48g Carbohydrates, 4g Fiber, 4g Sugars, 15g Protein

Dietitian's Dish:
You can substitute 1/2 cup lemon juice and 1/2 cup water for the wine in this recipe.