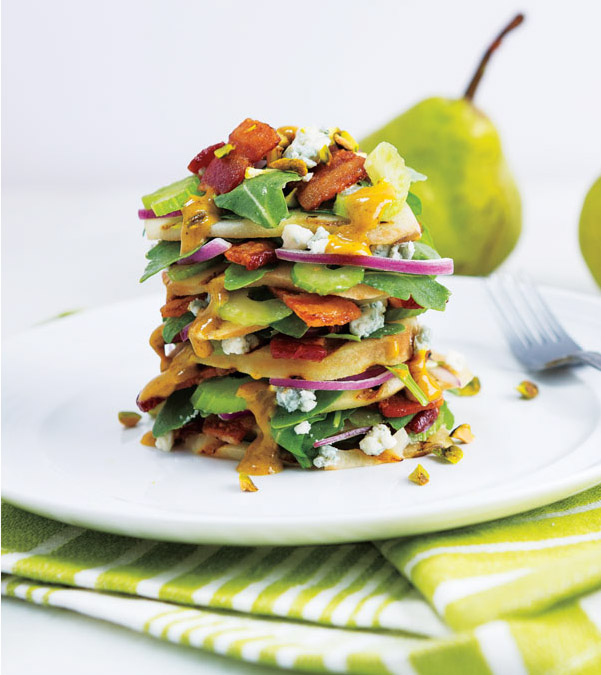 Shop Ingredients Click to See How-To Video!


Grilled Pear Napoleon
Prep: 15 minutes
Grill: 5 minutes • Serves: 4
4
slices thick-cut Applewood smoked bacon, chopped
1/4
cup honey mustard
1-1/2
tablespoons balsamic vinegar
1/8
teaspoon salt
1/8
teaspoon ground black pepper
4
Bartlett pears, peeled and sliced 1/4-inch thick lengthwise on each side of core
1
tablespoon olive oil
2
cups baby arugula
1/2
cup crumbled Gorgonzola cheese
1/4
cup thinly sliced celery
1/4
cup thinly sliced red onion
1/4
cup chopped, roasted salted shelled pistachios
1.Prepare outdoor grill for direct grilling over medium-high heat. In large skillet, cook bacon over medium-high heat 5 minutes or until crisp, stirring occasionally; with slotted spoon, transfer to paper towel-lined plate.

2.In small bowl, whisk honey mustard, vinegar, salt and pepper. Makes about 1/3 cup.

3.In medium bowl, toss pears with oil. Place pears on hot grill rack; cover and cook 5 minutes or until grill marks appear, turning once.

4.On 4 plates, alternately stack pears, arugula, cheese, celery, onion and bacon; drizzle with honey mustard mixture and sprinkle with pistachios.


Approximate nutritional values per serving: 

377 Calories, 21g Fat (7g Saturated), 30mg Cholesterol,
825mg Sodium, 35g Carbohydrates, 7g Fiber, 22g Sugars,
3g Added Sugars, 14g Protein