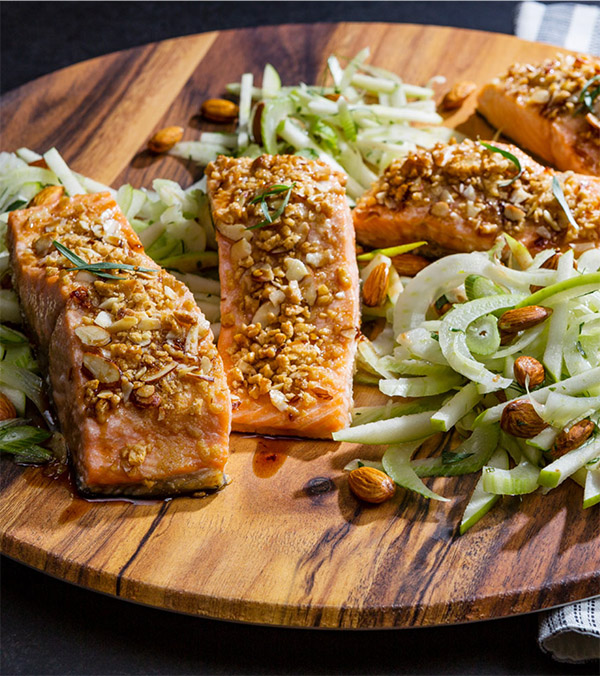 Shop Ingredients Click to See How-To Video!


Crispy Honey Nut Baked Salmon with Almond-Fennel Salad
Prep: 15 minutes
Bake: 15 minutes • Serves: 4
Nonstick cooking spray
2/3
cup raw whole almonds
1
cup PICS Honey Nut Toasted Oats Cereal
4
skin-on salmon fillets (about 6 ounces each)
2
tablespoons honey
2
tablespoons balsamic glaze
1
tablespoon chili garlic sauce
1
medium fennel bulb, thinly sliced
1
small green apple, thinly sliced
1
tablespoon fresh lemon juice
1
tablespoon olive oil
1
tablespoon chopped fresh tarragon
1.Preheat oven to 425°. Line rimmed baking pan with parchment paper; spray with nonstick cooking spray.

2.In food processor, process 1/3 cup almonds 30 seconds or to coarse crumbs; add cereal and pulse 10 times. Makes about 1 cup.

3.Place salmon, skin side down, on prepared pan; brush with 1 tablespoon honey and press oat-almond crumbs over honey. Bake 15 minutes or until internal temperature of salmon reaches 145°.

4.In small bowl, whisk balsamic glaze, chili garlic sauce and remaining 1 tablespoon honey. In large bowl, toss fennel, apple, lemon juice, oil, tarragon and remaining 1/3 cup almonds.

5.Serve salmon drizzled with spiced honey balsamic with almond-fennel salad.


Approximate nutritional values per serving: 

557 Calories, 26g Fat (3g Saturated), 107mg Cholesterol,
240mg Sodium, 35g Carbohydrates, 6g Fiber, 24g Sugars, 44g Protein