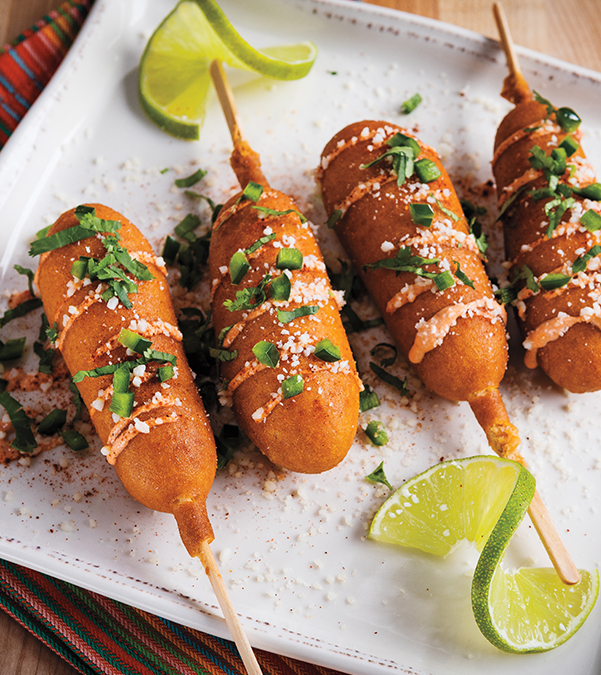 Mini Mexican Street Corn Dogs
Prep: 35 minutes
Cook : 6 minutes • Serves: 8
8
cups
PICS vegetable oil
2
cups plus 2 tablespoons honey cornbread mix
2
teaspoons chipotle-garlic seasoning
4
(6-inch)
PICS hot dogs
, cut crosswise in half
8
(6-inch) wooden skewers
1
cup buttermilk
2
medium jalapeño peppers, finely chopped
2
tablespoons chipotle mayonnaise
2
tablespoons chopped fresh cilantro
2
tablespoons
PICS grated Cotija cheese
Lime slices for garnish (optional)
1.Attach deep fryer thermometer to side of medium saucepan; add oil and heat over medium heat 35 minutes or until oil temperature reaches 350˚.

2.In medium bowl, stir together cornbread mix and 1 teaspoon chipotle-garlic seasoning. Pat hot dogs dry with paper towel; insert skewers halfway into cut end of each hot dog and roll in cornbread mixture to lightly coat.
3.In small bowl, whisk egg and buttermilk; stir into cornbread mixture. In 2 batches, dip each hot dog into batter, allowing excess to drip off; slowly add to hot oil and fry 3 minutes or until golden brown, turning once. Drain corn dogs on paper towel-lined rimmed baking pan.
4.Serve corn dogs topped with jalapeño, mayonnaise, cilantro, cheese and remaining chipotle-garlic seasoning; garnish with lime slices, if desired.
Approximate nutritional values per serving:
349 Calories, 27g Fat (6g Saturated), 40mg Cholesterol, 500mg Sodium, 23g Carbohydrates, 0g Fiber, 6g Protein
Chef Tip:
Transfer batter to a tall drinking glass for easier hot dog dipping.
Heat oil back to 350° before frying the second batch of corn dogs.