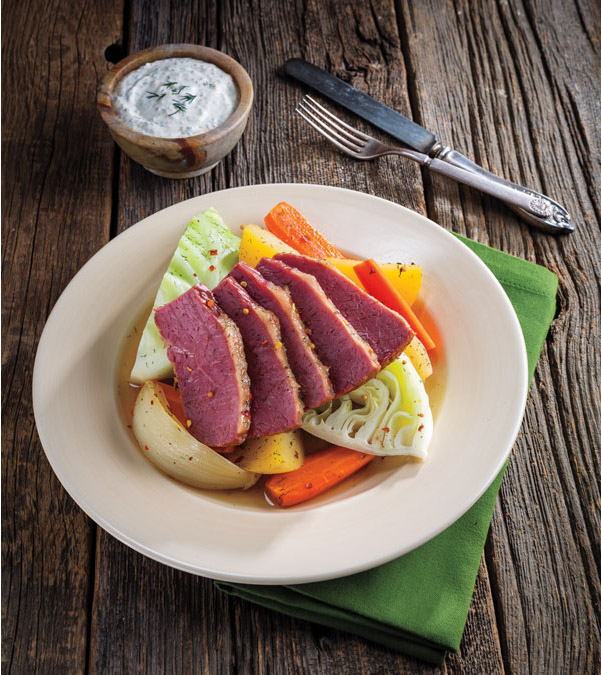 Shop Ingredients Click to See How-To Video!


Corned Beef with Vegetables and Mustard-Dill Sauce
Prep: 15 minutes
Cook: 6 hours • Serves: 8
1
(3- to 4-pound) flat cut corned beef with seasoning packet, fat trimmed
4
cups apple juice or cider
2
cups water
4
tablespoons chopped fresh dill (about 1/2 bunch)
4
large Yukon gold potatoes, skin on, each cut into 4 wedges
4
medium carrots, each cut lengthwise in half, then crosswise into 2-1/2-inch pieces
2
medium yellow onions, each cut into 6 wedges
1
large green cabbage, cut into 8 wedges
1
cup mayonnaise
1
cup sour cream
1/2
cup coarse ground mustard
1.In 7- to 8-quart slow cooker, combine seasoning packet, apple juice, water and 1 tablespoon dill. Add corned beef. Cover and cook on high 5 to 6 hours. Corned beef is done when a fork slides easily into corned beef when pierced. Transfer corned beef to cutting board and loosely cover with foil.

2.Add potatoes, carrots, onions and cabbage to slow cooker. Cover and cook on high 1 to 2 hours, or until vegetables are tender, returning corned beef to slow cooker during last 30 minutes of cooking to reheat.

3.Meanwhile, in small bowl, whisk together mayonnaise, sour cream, mustard and remaining 3 tablespoons dill.

4.To serve, slice corned beef across grain. Serve with vegetables and mustard sauce.


Approximate nutritional values per serving: 

797 Calories, 51g Fat (14g Saturated), 108mg Cholesterol,
609mg Sodium, 50g Carbohydrates, 6g Fiber, 31g Protein