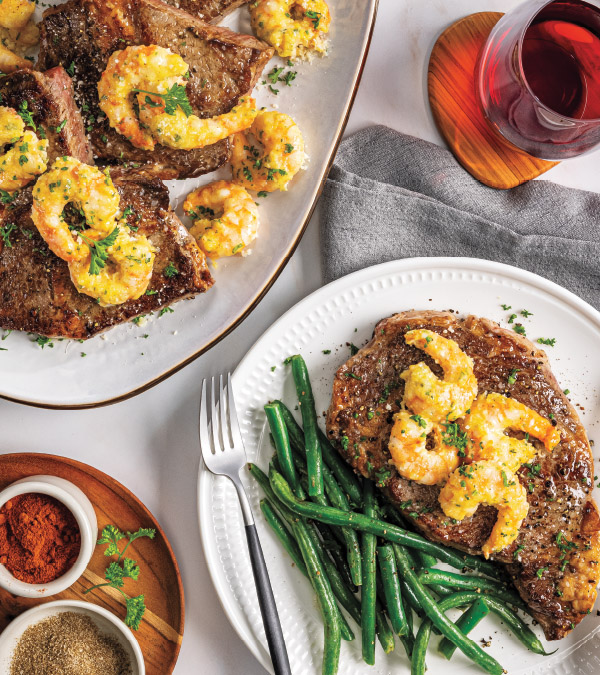 Ribeye Steaks with Parmesan Shrimp
Prep: 15 minutes plus standing
Cook/Bake: 12 minutes • Serves: 8
4
PICS ribeye steaks
(about 10 ounces each), cut in half crosswise
1
PICS large egg yolk
1/2
cup
PICS grated Parmesan cheese
1/3
cup
PICS mayonnaise
1
tablespoon chopped fresh parsley plus additional for garnish (optional)
1
teaspoon
PICS garlic powder
1
teaspoon
PICS paprika
1/2
teaspoon celery salt
1/8
teaspoon
Full Circle cayenne pepper
1
pound raw 16-20 count tail-off peeled and deveined shrimp, thawed if necessary
1
teaspoon
PICS salt
1/2
cup
PICS unsalted butter
(1 stick), softened
1. Preheat oven to 400°. Let steaks stand at room temperature 30 minutes. In large bowl, stir egg yolk, cheese, mayonnaise, parsley, garlic powder, paprika, celery salt and cayenne pepper; add shrimp and stir to coat. Spread shrimp mixture in 8-1/2 x 11-inch baking dish.

2. Heat cast-iron skillet over high heat 2 minutes or until very hot. Sprinkle 2 steaks with 1/2 teaspoon salt and add to skillet; cook 6 minutes or until internal temperature reaches 135° for medium-rare, turning frequently to achieve an even crust on outside of steaks and adding 1/4 cup butter to skillet after 4 minutes. Spoon butter over steaks during last 2 minutes of cooking. Transfer steaks to cutting board; tent with aluminum foil and let stand 5 minutes. (Internal temperature will rise to 145° upon standing.) Wipe out skillet; repeat with remaining steaks, salt and butter.

3. Bake shrimp 8 minutes or until opaque throughout and internal temperature reaches 145°.

4. Serve steaks topped with shrimp sprinkled with parsley, if desired.


Approximate nutritional values per serving (1/2 steak, 2 shrimp):
465 Calories, 30g Fat (11g Saturated), 251mg Cholesterol, 718mg Sodium,
2g Carbohydrates, 0g Fiber, 0g Sugars, 0g Added Sugars, 45g Protein