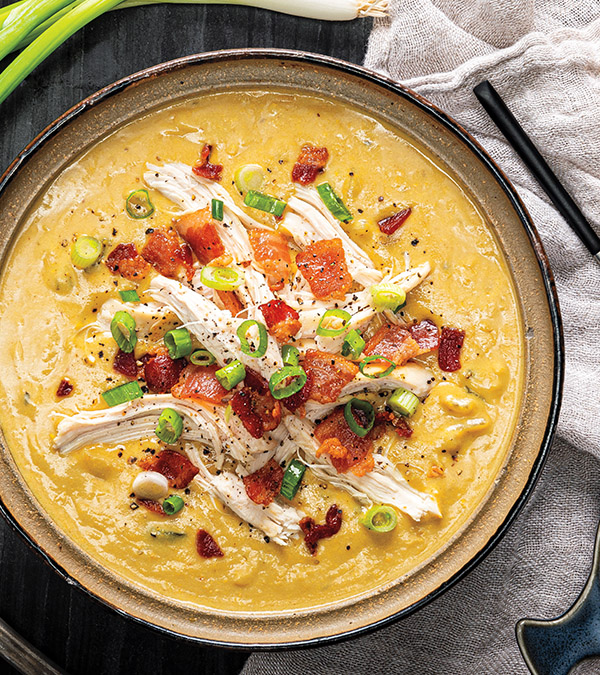 Beer-Cheese Soup with Rotisserie Chicken
Prep: 15 minutes
Cook: 25 minutes • Serves: 8
6
slices
PICS thick-cut bacon
, chopped
2
celery ribs, chopped
1
medium poblano pepper, chopped
1
small white onion, chopped
1/4
cup
PICS all-purpose flour
1
bottle (11.2 fluid ounces) stout beer
1
container (32 ounces)
PICS chicken stock
1
cup
PICS heavy cream
1/2
teaspoon dried oregano
1/2
teaspoon garlic powder
4
cups
PICS shredded Mexican blend cheese
4
green onions, thinly sliced
2
cups shredded skinless
Market 32 rotisserie chicken breast meat
, warmed
1.In large saucepot, cook bacon over medium-high heat 5 minutes or until crisp, stirring occasionally; with slotted spoon, transfer to paper towel-lined plate.

2. In same saucepot with drippings, cook celery, pepper and white onion 5 minutes or until tender-crisp, stirring occasionally. Add flour; cook 1 minute, whisking occasionally. Whisk in beer; cook 1 minute or until slightly thickened, whisking frequently. Add stock, cream, oregano and garlic powder; heat to a simmer, whisking frequently. Reduce heat to low; cook 15 minutes or until vegetables are very soft, stirring occasionally. Whisk in cheese until melted. Makes about 8 cups.

3. Serve soup topped with green onions, chicken and bacon.


Approximate nutritional values per serving (1 cup):
432 Calories, 30g Fat, 18g Saturated Fat, 124mg Cholesterol, 626mg Sodium,
9g Carbohydrates, 1g Fiber, 5g Sugars, 2g Added Sugars, 28g Protein