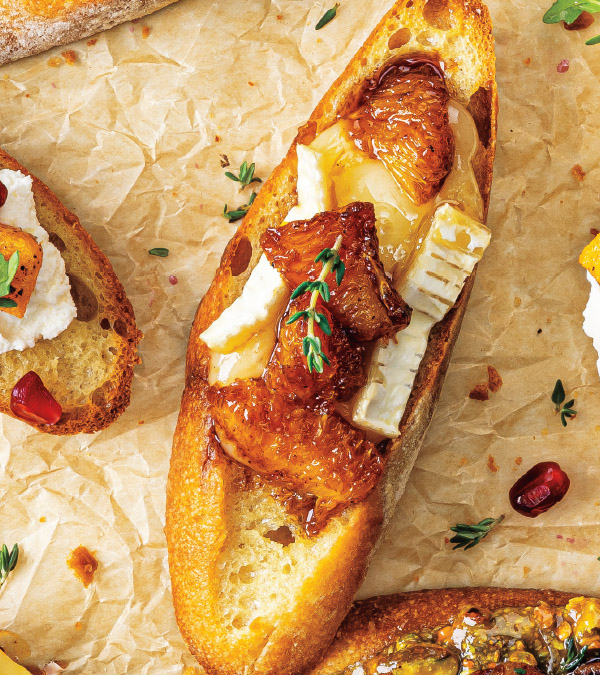 Brie Crostini with Orange Compote
Prep: 20 minutes plus cooling
Bake: 11 minutes • Serves: 10
2
medium
Market 32 oranges
3
tablespoons
PICS honey
1/4
teaspoon
PICS ground cinnamon
1/8
teaspoon ground cloves
1/2
(14-ounce) French baguette, sliced 1/2-inch thick crosswise
2
tablespoons
PICS olive oil
1/2
(8-ounce) package Brie cheese, sliced into 1/4-inch-thick slices, then cut into 1-inch pieces
Fresh thyme leaves for garnish (optional)
1. Slice off ends of oranges; place cut side down on cutting board. Slice down sides of oranges to remove skin and white pith with a paring knife. Working with 1 orange at a time, hold orange over small bowl; gently cut along sides of membranes to release each segment. Reserve orange segments; squeeze juice from orange membranes into separate small bowl.

2. In small saucepan, heat honey, cinnamon, cloves, orange juice and 3 tablespoons water to a simmer over medium-high heat; cook 5 minutes or until thickened, stirring occasionally. Remove from heat and cool completely; fold in orange segments. Makes about 1-1/2 cups.

3. Preheat oven to 400°. Place baguette slices in single layer on rimmed baking pan; brush both sides with oil and bake 7 minutes or until toasted.

4. Top baguette slices with cheese; bake 4 minutes or until cheese melts. Top baguette slices with compote and sprinkle with thyme, if desired. Makes about 20 crostini.


Approximate nutritional values per serving (2 crostini):
147 Calories, 6g Fat (2g Saturated), 11mg Cholesterol, 191mg Sodium,
19g Carbohydrates, 1g Fiber, 9g Sugars, 6g Added Sugars, 5g Protein