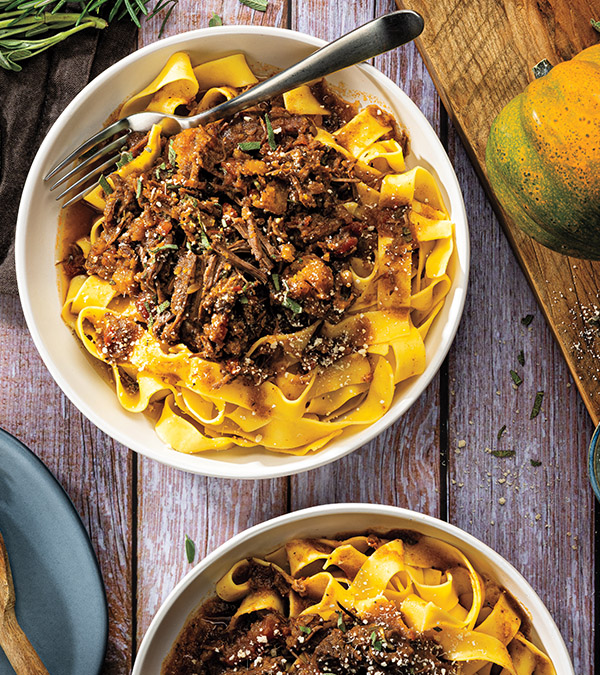 Tomato-Braised Beef Ragu Pappardelle
Prep: 15 minutes
Cook: 2 hours 40 minutes • Serves: 6
2
tablespoons
PICS olive oil
1
Market 32 beef chuck roast
(about 2 pounds), cut into 1 1/2-inch pieces
1-1/2
teaspoons
PICS salt
3/4
teaspoon
PICS ground black pepper
1
cup
PICS beef stock
1/3
cup
Full Circle balsamic vinegar
1
can (14.5 ounces)
PICS diced tomatoes
3
fresh oregano sprigs
3
fresh rosemary sprigs
2
garlic cloves, minced
1
acorn squash, peeled, halved, seeded and cut into 1-inch pieces
1
tablespoon chopped fresh sage
2
packages (9 ounces each) pappardelle pasta
1/4
cup
PICS grated Parmesan cheese
for garnish (optional)
1. In 5- to 6-quart Dutch oven, heat oil over medium-high heat. Sprinkle beef with salt and pepper; add to Dutch oven and cook 8 minutes or until browned, turning to brown all sides. With slotted spoon, transfer beef to plate. Stir in stock and vinegar, scraping browned bits from bottom of Dutch oven with wooden spoon; add tomatoes with their juice, oregano, rosemary and garlic. Heat to a simmer; add beef and cover tightly with lid or aluminum foil. Reduce heat to medium-low; simmer 1 1/2 hours. Stir in squash; simmer 1 hour or until beef and squash are fork-tender, stirring occasionally. Remove and discard oregano and rosemary sprigs; with 2 forks, shred beef. Stir in sage. Makes about 6 cups.

2. Prepare pasta as label directs; drain. Makes about 9 cups.

3. Serve beef mixture over pasta sprinkled with cheese.


Approximate nutritional values per serving (1 cup beef mixture, 1 1/2 cups pasta):
796 Calories, 28g Fat, 9g Saturated Fat, 184mg Cholesterol, 715mg Sodium,
80g Carbohydrates, 8g Fiber, 5g Sugars, 0g Added Sugars, 49g Protein