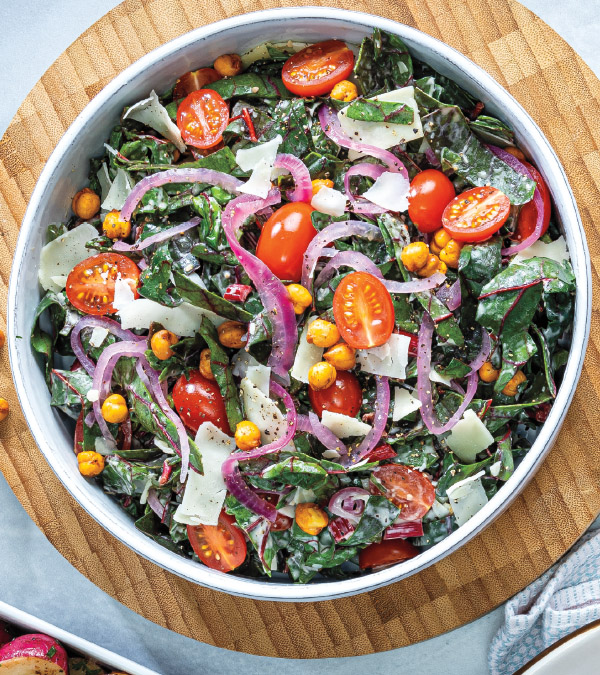 Rainbow Swiss Chard Caesar Salad
Prep: 20 minutes plus standing • Serves: 8
Pickled Red Onion
1/2
cup
PICS apple cider vinegar
1
tablespoon
PICS granulated sugar
2
teaspoons
PICS kosher salt
1
cup thinly sliced red onion
Salad
8
cups chopped rainbow Swiss chard leaves
2
cups halved
Market 32 grape tomatoes
2/3
cup
PICS Caesar salad dressing
1/2
teaspoon
PICS ground black pepper
1
cup sea salt chickpea snacks
1
cup shaved
Market 32 Parmesan Cheese
Pickled Onion
1. In medium bowl, whisk vinegar, sugar, salt and 1 cup water until sugar is dissolved; stir in onion. Cover and let stand 1 hour; drain. Makes about 3/4 cup.

Salad
2. In large bowl, toss Swiss chard, tomatoes, dressing, pepper and Pickled Onion. Makes about 8 cups.

3. Serve salad topped with chickpeas and cheese.


Approximate nutritional values per serving (1 cup):
237 Calories, 17g Fat (4g Saturated), 20mg Cholesterol, 691mg Sodium,
15g Carbohydrates, 4g Fiber, 3g Sugars, 0g Added Sugars, 10g Protein