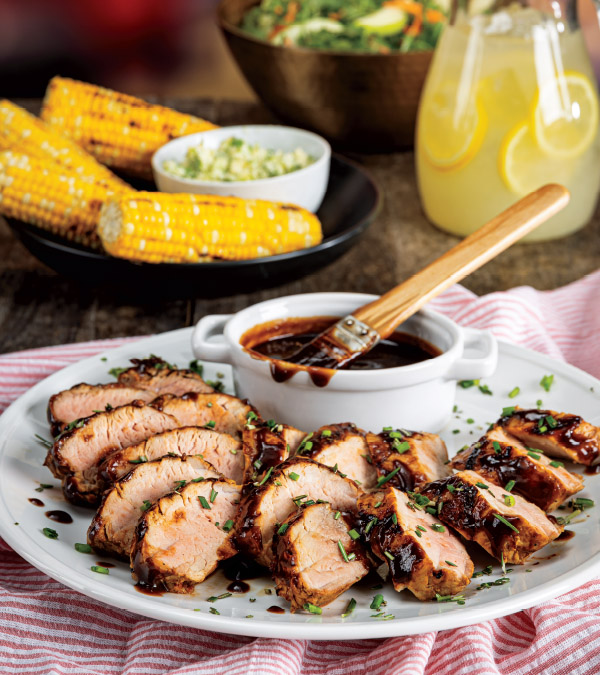 Grilled Pork Tenderloin with Balsamic BBQ Sauce
Prep: 15 minutes plus standing
Grill: 15 minutes • Serves: 4
1/2
cup
PICS balsamic vinegar
1/3
cup
PICS ketchup
3
tablespoons
PICS honey
1
tablespoon
PICS Dijon mustard
2
teaspoons
PICS Worcestershire sauce
1/2
teaspoon
PICS garlic powder
1
pork tenderloin (about 1 pound)
PICS nonstick cooking spray
2
teaspoons chopped fresh chives
1
teaspoon chopped fresh rosemary
1. Prepare outdoor grill for direct grilling over medium-high heat. In small oven-safe saucepot, whisk vinegar, ketchup, honey, mustard, Worcestershire sauce and garlic powder. Place saucepot on hot grill rack; cover and cook 10 minutes or until thickened and reduced by 1/3, whisking occasionally. Makes about 3/4 cup.

2. Reserve 1/2 the BBQ sauce. Spray pork with cooking spray and place on hot grill rack; cover and cook 15 minutes or until internal temperature reaches 145°, brushing with remaining 1/2 the BBQ sauce every 5 minutes and turning once. Transfer pork to cutting board and tent loosely with aluminum foil; let stand 10 minutes.

3. Slice pork; serve sprinkled with chives and rosemary along with reserved BBQ sauce.


Approximate nutritional values per serving (about 5 slices pork, 1-1/2 tablespoons Balsamic BBQ Sauce):
242 Calories, 5g Fat, 1g Saturated Fat, 64mg Cholesterol, 381mg Sodium, 26g Carbohydrates, 0g Fiber, 23g Protein