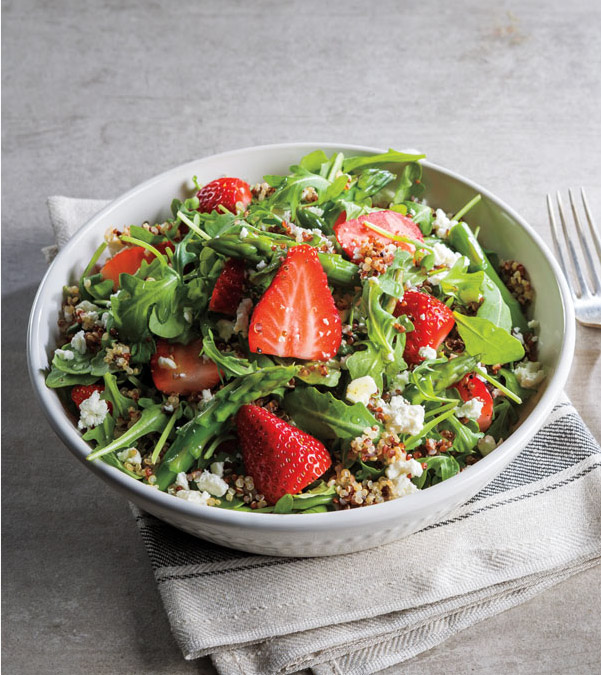 Shop Ingredients Click to See How-To Video!



Strawberry, Arugula and Quinoa Salad with Asparagus & Feta
Prep: 15 minutes • Serves: 8
1/2
bunch asparagus, ends trimmed, cut into 2-inch pieces
1/4
cup fresh lemon juice
2
tablespoons honey
1
teaspoon salt
1-1/2
teaspoons fresh ground black pepper
1/4
cup extra virgin olive oil
1
package (8.8 ounces) ready to serve white & red quinoa
2
cups loosely packed arugula
2
cups halved fresh strawberries
1
cup crumbled feta cheese
1.Heat large saucepot of salted water to a boil over high heat. Add asparagus; cook 1-1/2 minutes. Transfer asparagus to bowl filled with ice water; once cooled, drain and pat dry.

2.In large bowl, whisk lemon juice, honey, salt and pepper; whisking constantly, slowly drizzle in oil until emulsified. Add quinoa, arugula and asparagus; toss to combine. Fold in strawberries and cheese. Makes about 7 cups.


Approximate nutritional values per serving: 

185 Calories, 12g Fat (4g Saturated), 17mg Cholesterol,
517mg Sodium, 18g Carbohydrates, 3g Fiber, 7g Sugars,
4g Added Sugars, 5g Protein