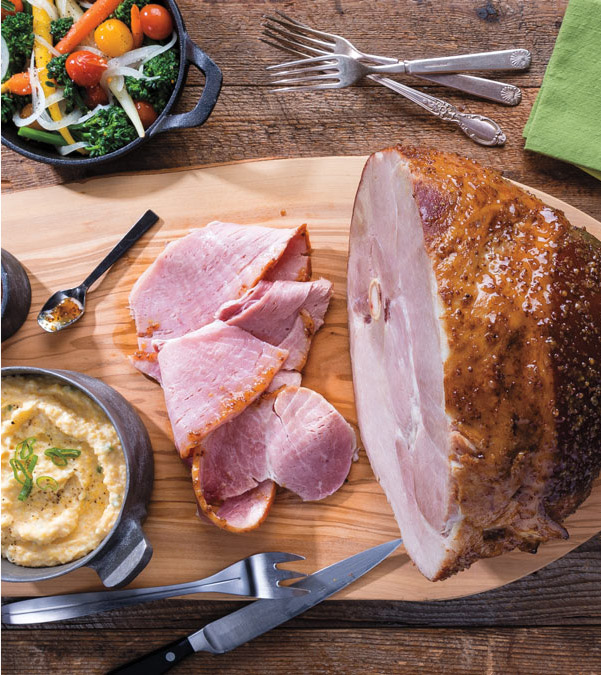 Shop Ingredients Click to See How-To Video!


Creole Ham
Prep: 15 minutes plus standing
Bake: 2 hours 50 minutes • Serves: 20
1
bone-in hickory smoked shank portion ham (about 12 pounds)
2
cups cane sugar
2
cups creole mustard
1
cup honey
1.Preheat oven to 325°. Place ham, cut side down, on rack in large roasting pan; add 1/2-inch water to pan. Cover pan tightly with aluminum foil; bake 2 hours or until internal temperature reaches 120°.

2.In small saucepan, whisk sugar, mustard and honey; heat to simmering over medium heat. Simmer 5 minutes, whisking occasionally; remove from heat. Makes about 4 cups.

3.Remove ham from oven; brush with some glaze and return to oven. Bake, uncovered, 50 minutes longer or until internal temperature reaches 130°, brushing ham with remaining glaze every 10 minutes. Add additional water to bottom of pan if glaze begins to burn.

4.Transfer ham to cutting board; cover loosely with foil and let stand 15 minutes before serving. Internal temperature will rise to 140° upon standing. Serve with remaining glaze.


Approximate nutritional values per serving: 

306 Calories, 6g Fat (2g Saturated), 79mg Cholesterol,
1926mg Sodium, 36g Carbohydrates, 0g Fiber, 36g Sugars,
35g Added Sugars, 27g Protein