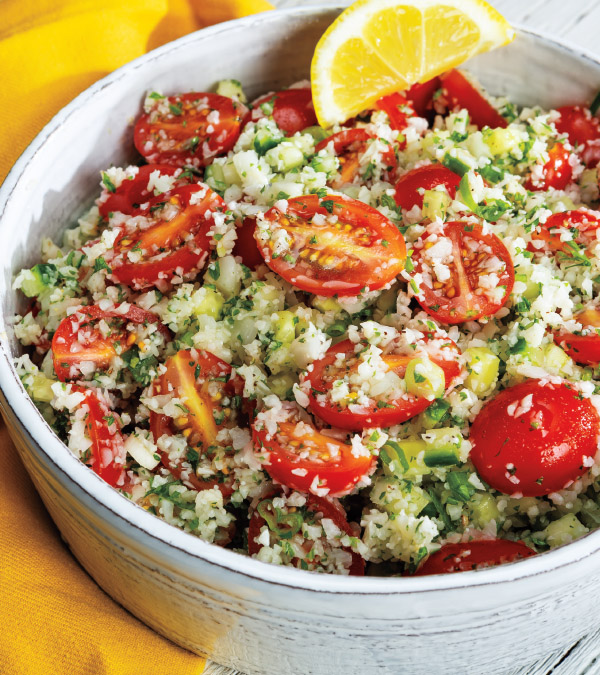 Cauliflower "Rice" Tabbouleh Salad
Prep: 25 minutes plus chilling • Serves: 4
1
package (12 ounces)
PICS fresh cauliflower rice
3
tablespoons
PICS olive oil
1
garlic clove, minced
1/4
cup fresh lemon juice
1/2
teaspoon
PICS salt
1/4
teaspoon
PICS fresh ground black pepper
1/2
cup finely chopped seedless cucumber
1/2
cup halved
Full Circle cherry tomatoes
1/4
cup finely chopped curly parsley
3
tablespoons sliced green onions
1.In food processor, pulse cauliflower until it resembles fine granules.

2.In large skillet, heat 1 tablespoon oil over medium-high heat. Add garlic and cauliflower; cook 5 minutes until tender, stirring occasionally. Remove from heat; let cool.

3.In large bowl, whisk lemon juice, salt and pepper; whisking constantly, slowly drizzle in remaining 2 tablespoons oil until emulsified. Fold in cucumber, tomatoes, parsley, green onions and cauliflower; cover and refrigerate at least 30 minutes or up to 4 hours before serving. Makes about 3 cups.


Approximate nutritional values per serving (about 3/4 cup):
100 Calories, 10g Fat (2g Saturated), 0mg Cholesterol,
300mg Sodium, 3g Carbohydrates, 1g Fiber, 1g Protein