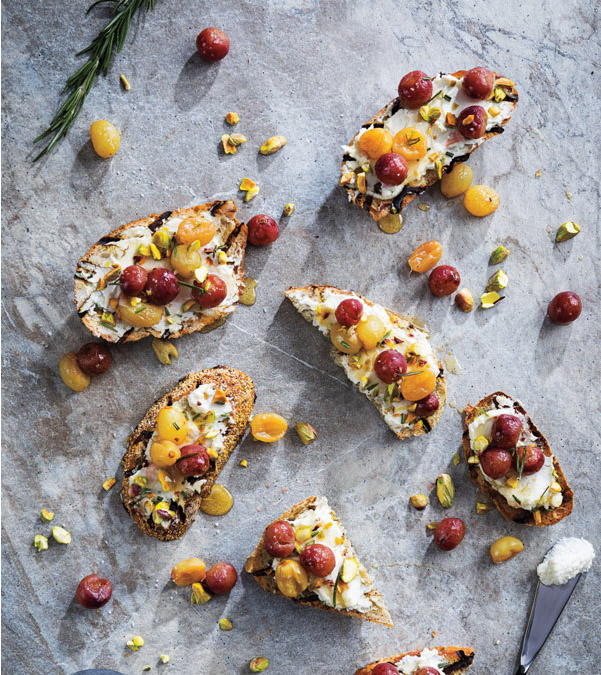 Shop Ingredients Click to See How-To Video!


Roasted Grape & Goat Cheese Bruschetta
Prep: 15 minutes
Roast: 8 minutes • Serves: 8
3
cups green and/or red grapes
1/4
cup olive oil
1/2
teaspoon kosher salt
4
fresh rosemary sprigs plus additional chopped for garnish (optional)
1/2
(16-ounce) loaf rustic bread, cut into 3/4-inch-thick slices
8
ounces chèvre (goat cheese), softened
1
tablespoon honey
1/4
cup chopped pistachios
1.Preheat oven to 450°. On rimmed baking pan, toss grapes, 2 tablespoons oil and salt; top with rosemary. Roast 8 minutes or just until grapes begin to burst; remove and discard rosemary.

2.Heat grill pan over medium-high heat; brush with remaining 2 tablespoons oil. Grill bread 1-1/2 minutes per side or until grill marks appear.

3.In small bowl, stir chèvre and honey. Spread grilled bread with chèvre mixture; top with roasted grapes and sprinkle with pistachios and rosemary, if desired. Cut larger slices diagonally in half.


Approximate nutritional values per serving: 

261 Calories, 15g Fat (5g Saturated), 13mg Cholesterol,
438mg Sodium, 29g Carbohydrates, 2g Fiber, 10g Protein