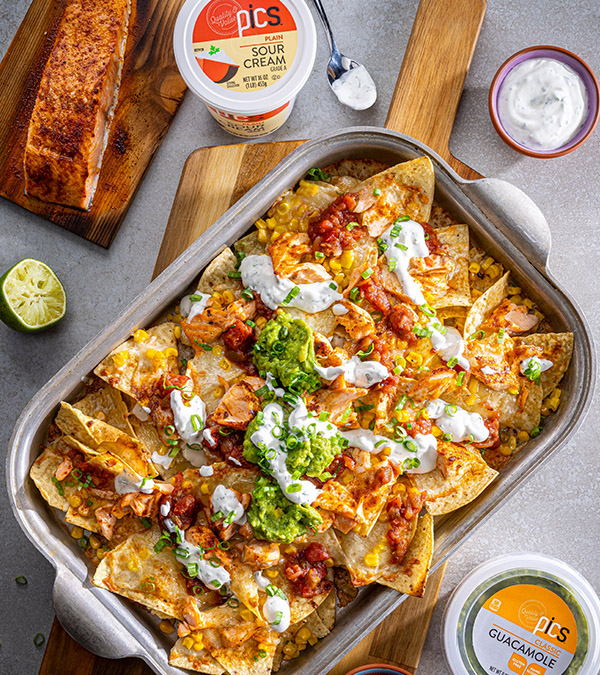 Click to See How-To Video!



Cedar Plank Salmon Nachos with Cilantro-Lime Crema
Prep: 20 minutes plus soaking
Grill: 26 minutes • Serves: 6
1
plain
Market 32 cedar plank Atlantic salmon portions
, thawed (10 ounces)
1
tablespoon
PICS olive oil
1
teaspoon
PICS street corn seasoning
1/4
cup
PICS sour cream
2
tablespoons fresh lime juice
1
tablespoon chopped fresh cilantro
1/2
(12-ounce) bag
PICS restaurant style tortilla chips
2
cups
PICS shredded low-moisture part-skim mozzarella cheese
1/2
cup
PICS steambag frozen sweet corn
, thawed
3
green onions, thinly sliced
1/2
cup
PICS classic guacamole
1/2
cup
PICS chunky mild salsa
1. Prepare outdoor grill for direct grilling over medium-high heat. Remove salmon from plank; soak plank in warm water 30 minutes.

2. Place salmon, skin side down, on plank; brush with oil and sprinkle with seasoning. Place plank with salmon on hot grill rack; cover and cook 20 minutes or until internal temperature reaches 145°. Transfer salmon to cutting board; flake into 1-inch pieces with fork.

3. In small bowl, whisk sour cream, lime juice and cilantro.

4. Spread chips on rimmed baking pan; sprinkle with cheese, corn and salmon. Place pan on hot grill rack; cover and cook 6 minutes or until edges of nachos are lightly browned and cheese is melted. Makes about 8 cups.

5. Serve nachos topped with onions, guacamole, salsa and sour cream mixture.


Approximate nutritional values per serving (1-1/3 cups):
422 Calories, 23g Fat, 7g Saturated Fat, 59mg Cholesterol, 598mg Sodium,
31g Carbohydrates, 2g Fiber, 4g Sugars, 1g Added Sugars, 23g Protein