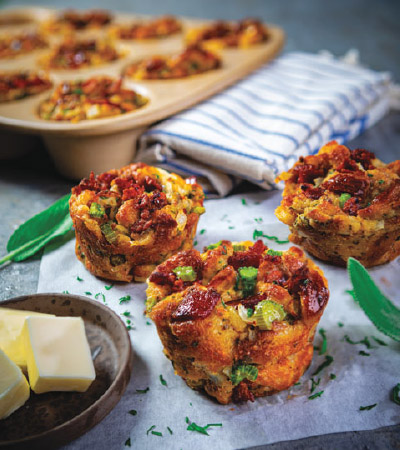 Shop Ingredients Click to See How-To Video!


Bacon-Sage Stuffing Muffins
Prep: 25 minutes
Bake: 30 minutes • Makes: 12 muffins
PICS™ Original Non-Stick Cooking Spray
4
slices
PICS™ Thick Sliced Bacon
, chopped
2
stalks celery, chopped
1
medium white onion, chopped
2
tablespoons chopped fresh sage
1
loaf (20 ounces)
PICS™ Homestyle White Bread
, cut into 1-inch cubes
1/2
cup
PICS™ Sweet Cream Unsalted Butter
, melted
2
PICS™ Grade A Large Eggs
2
cups
PICS™ Chicken Broth
2
tablespoons chopped fresh parsley
1/2
teaspoon sea salt
1/2
teaspoon ground black pepper
1.Preheat oven to 400°. Spray standard-size muffin pan with cooking spray. In large skillet, cook bacon over medium heat 4 minutes or until starting to brown, stirring occasionally. Add celery, onion and sage; cook 10 minutes or until vegetables are very tender, stirring occasionally.

2.In large bowl, toss bread cubes and butter; spread on rimmed baking pan; bake 10 minutes or until lightly toasted. In same large bowl, whisk eggs, broth, parsley, salt and pepper; stir in bacon mixture and bread cubes. Fill prepared muffin cups with bread mixture; bake 30 minutes or until golden brown and internal temperature reaches 160°. Makes 12 muffins.


Approximate nutritional values per serving (1 muffin):
253 Calories, 12g Fat (6g Saturated), 56mg Cholesterol,
569mg Sodium, 28g Carbohydrates, 2g Fiber, 4g Sugars, 7g Protein