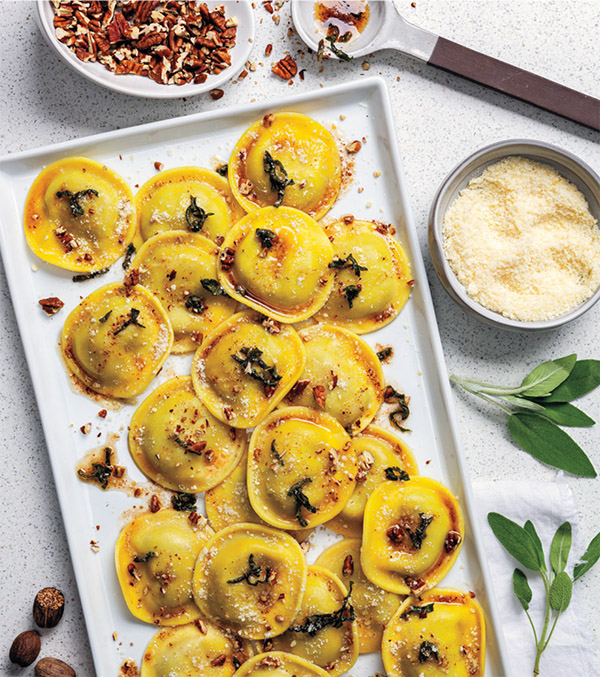 Shop Ingredients Click to See How-To Video!



Pumpkin Ravioli with Sage Brown Butter & Toasted Pecans
Prep: 15 minutes
Cook: 5 minutes • Serves: 4
1/3
cup chopped pecans
2
packages (13 ounces each) PICS Pumpkin Ravioli
1/2
cup PICS Unsalted Butter
2
teaspoons chopped fresh sage
1/4
teaspoon salt
1/8
teaspoon Full Circle Ground Nutmeg
1/4
cup PICS Grated Parmesan Cheese
1.In large skillet, toast pecans over medium heat 4 minutes or until lightly browned and fragrant, stirring frequently; transfer to plate to cool.

2.Heat large saucepot of salted water to a boil over high heat. Add ravioli; cook as label directs. Drain; return to saucepot and cover to keep warm.

3.In large skillet, cook butter over medium heat 5 minutes or until it begins to brown, stirring frequently; remove from heat. Stir in sage, salt and nutmeg.

4.Serve ravioli drizzled with butter mixture and sprinkled with cheese and pecans.


Approximate nutritional values per serving:
573 Calories, 34g Fat (18g Saturated), 79mg Cholesterol,
523mg Sodium, 54g Carbohydrates, 5g Fiber, 4g Sugars, 13g Protein