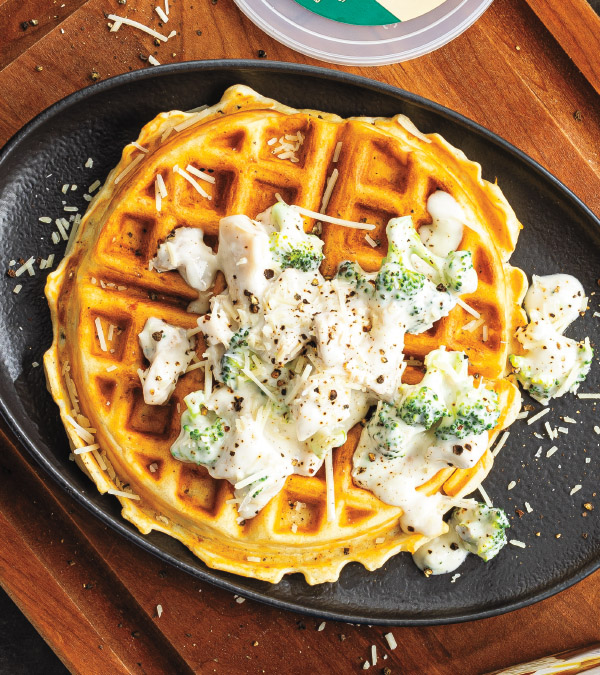 Parmesan-Black Pepper Waffles with Turkey-Broccoli Alfredo
Prep: 20 minutes
Cook: 25 minutes • Serves: 10
1
jar (15 to 16 ounces) Alfredo sauce
1-3/4
cups shredded leftover or cooked turkey
1-1/4
cups thawed frozen
PICS broccoli florets
3
PICS large eggs
1-3/4
cups
PICS all-purpose flour
1
tablespoon
PICS baking powder
1-1/2
teaspoons
PICS salt
3/4
cup
Market 32 shredded Parmesan cheese
(about 3 ounces)
1
tablespoon fresh cracked
PICS black pepper
2
cups
PICS whole milk
1/2
cup
PICS unsalted butter
(1 stick), melted and cooled
1. In medium saucepot, cover and cook sauce, turkey and broccoli over medium-low heat 5 minutes or until heated through, stirring occasionally. Makes about 5 cups.

2. In large bowl, with mixer at medium speed, beat eggs 3 minutes or until very pale and foamy. Into medium bowl, sift flour, baking powder and salt; whisk in cheese and pepper until combined. Whisk milk and butter into flour mixture, whisking until just combined; do not overmix (batter will be lumpy). With wooden spoon, fold in eggs.

3. For each 5-inch waffle, with ladle, pour about 1/2 cup batter into waffle iron (enough to just cover surface of waffle iron); cook as manufacturer directs or until waffles are golden brown and steam is no longer escaping from iron. Makes about 10 waffles.

4. Serve waffles topped with Alfredo mixture.


Approximate nutritional values per serving (1 waffle, 1/2 cup Alfredo mixture):
358 Calories, 22g Fat (12g Saturated), 136mg Cholesterol, 1047mg Sodium,
22g Carbohydrates, 1g Fiber, 4g Sugars, 0g Added Sugars, 17g Protein

Chef Tip:
To keep waffles warm, place them in a single layer on a baking sheet in 200° oven