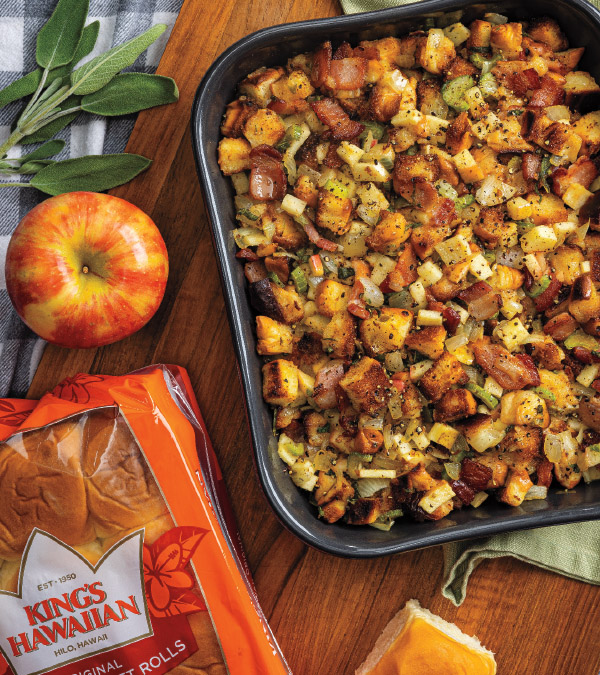 King's Hawaiian® Smoky Bacon & Apple Stuffing
Prep: 40 minutes
Bake: 45 minutes • Serves: 8
Nonstick cooking spray
1
package (12 ounces)
King's Hawaiian® sweet rolls
, cut into 1/2-inch pieces
8
slices applewood smoked bacon, chopped
1/4
cup unsalted butter
1
cup finely chopped celery
1
cup finely chopped yellow onion
2
tablespoons finely chopped fresh sage
1/2
teaspoon kosher salt
1/2
teaspoon black pepper
1
Honeycrisp apple, halved, cored and finely chopped
1-1/4
cups chicken broth
1.Preheat oven to 350°; spray 8-1/2 x 11-inch baking dish with cooking spray. Spread roll pieces on rimmed baking pan; bake 20 minutes or until lightly toasted. Cool 5 minutes; transfer to large bowl.

2.In large skillet, cook bacon over medium heat 8 minutes or until crisp; with slotted spoon, transfer to paper towel-lined plate. Discard all but 1 tablespoon drippings in skillet.

3.In same skillet with drippings, melt butter over medium heat. Add celery, onion, sage, salt and pepper; cook 5 minutes or until very tender, stirring frequently. Transfer to bowl with roll pieces; add apple, broth and bacon. Toss roll mixture gently until moistened and combined; spread in prepared dish and cover with aluminum foil.

4.Bake stuffing 30 minutes; uncover and bake 15 minutes or until top is lightly browned. Makes about 6 cups.


Approximate nutritional values per serving (3/4 cup):
233 Calories, 11g Fat, (6g Saturated), 43mg Cholesterol,
493mg Sodium, 30g Carbohydrates, 1g Fiber, 6g Protein