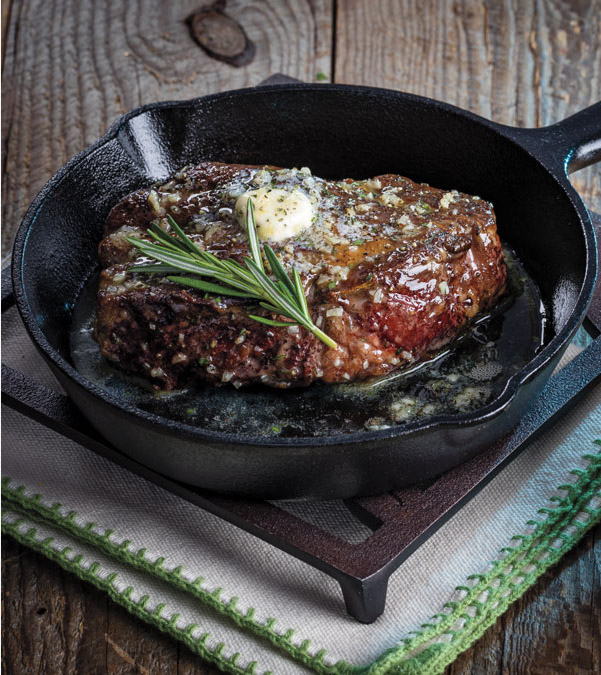 Shop Ingredients Click to See How-To Video!


Seared Chuck Eye Steak with Rosemary-Roasted Garlic Butter
Prep: 15 minutes plus marinating and standing
Cook/Roast: 10 minutes • Serves: 4
2
boneless Certified Angus Beef® Chuck Eye Steaks (10 ounces each)
1
teaspoon kosher salt
1/2
teaspoon plus 1 pinch white pepper
3
garlic cloves, finely chopped
1/2
teaspoon olive oil
1/2
cup unsalted butter, softened
1
teaspoon chopped fresh rosemary leaves
2
tablespoons coconut oil
1.Season steaks with 1/2 teaspoon each salt and pepper; refrigerate, uncovered, 1 hour or up to 8 hours. Let steaks stand at room temperature for 30 minutes; preheat oven to 450°.

2.In small microwave-safe bowl, heat garlic and oil in microwave oven on high 1-1/2 minutes or until garlic is golden, stirring occasionally; let cool. Stir in butter, rosemary and remaining 1/2 teaspoon salt and 1 pinch pepper.

3.In large cast iron skillet, heat coconut oil over medium-high heat; add steaks and sear 3 minutes per side. Transfer skillet to oven; roast 2 minutes or until internal temperature reaches 135° for medium-rare.

4.Remove skillet from oven; tilting skillet, add butter mixture and spoon over steaks for 2 minutes. Transfer steaks to wire rack over baking pan; tent with aluminum foil and let stand 5 minutes. (Internal temperature will rise to 145° upon standing.)

5.Slice steaks against the grain; serve with drippings from skillet.


Approximate nutritional values per serving: 

572 Calories, 52g Fat (29g Saturated), 155mg Cholesterol,
560mg Sodium, 1g Carbohydrates, 0g Fiber, 0g Sugars, 0g
Added Sugars, 27g Protein