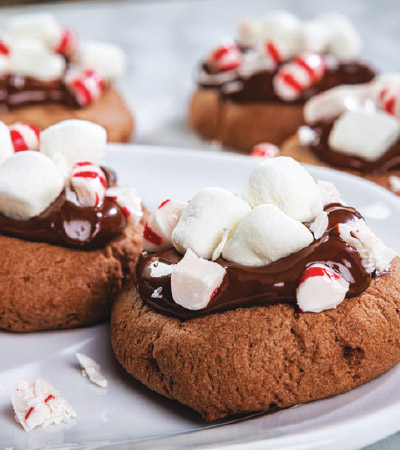 Shop Ingredients Click to See How-To Video!


Hot Chocolate Cookies
Prep: 20 minutes plus chilling and cooling
Bake: 12 minutes • Makes: 12 cookies
1-1/2
cups
PICS™ All Purpose Flour
1/3
cup cornstarch
1/3
cup
PICS™ Confectioners Sugar
1/4
cup
PICS™ Unsweetened Baking Cocoa
3/4
cup
PICS™ Sweet Cream Unsalted Butter
, softened
3
tablespoons
PICS™ Vitamin A & D Milk
1-1/2
teaspoons
PICS™ Pure Vanilla Extract
3/4
cup
PICS™ Semi-Sweet Chocolate Morsels
1/2
cup
PICS™ Mini Marshmallows
3
tablespoons coarsely chopped candy canes or peppermint candies
1.Preheat oven to 350°. Line rimmed baking pan with parchment paper. In large bowl, whisk flour, cornstarch, sugar and cocoa powder. With mixer on medium speed, beat butter, milk and vanilla extract 3 minutes or until light and fluffy; add flour mixture and beat just until combined. Cover; refrigerate 30 minutes.

2.Roll dough into 12 (1-1/2-inch) balls; place 2 inches apart on prepared pan. Firmly press each ball with palm of hand to flatten to 3/4-inch thick. Bake cookies 12 minutes or until sides crack slightly; cool on pan on wire rack 15 minutes.

3.In small microwave-safe bowl, heat chocolate morsels in microwave on high 1 minute or until melted, stirring every 20 seconds. Spread cookies with chocolate; immediately top with marshmallows and candy. Makes 12 cookies.


Approximate nutritional values per serving (1 cookie):
232 Calories, 15g Fat (9g Saturated), 31mg Cholesterol,
7mg Sodium, 25g Carbohydrates, 2g Fiber, 11g Sugars, 2g Protein