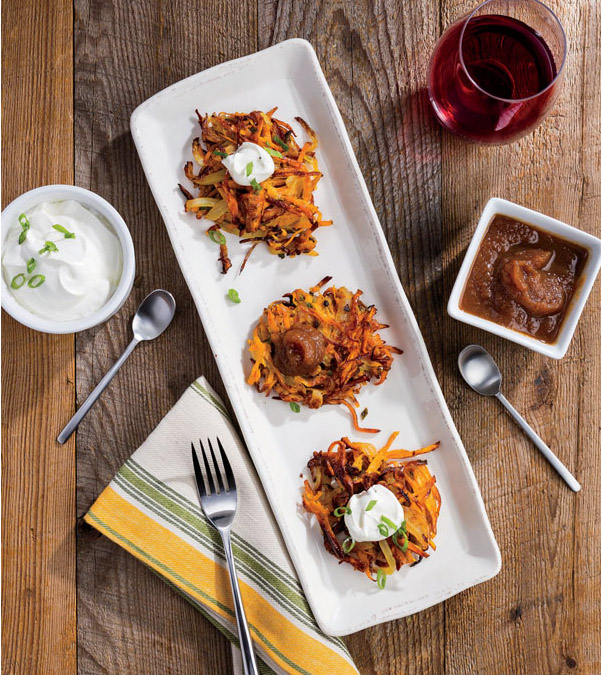 Shop Ingredients Click to See How-To Video!


Sweet Potato Latkes with Spiced Apple Butter
Prep: 45 minutes
Cook: 20 minutes • Serves: 8
1
medium onion, thinly sliced
3/4
cup vegetable oil
3/4
cup apple butter
1
tablespoon orange zest
1/8
teaspoon ground cloves
2
pounds sweet potatoes (about 2 large), peeled
2
large eggs
2
green onions, thinly sliced
1/4
teaspoon salt
1/4
teaspoon fresh ground black pepper
1/4
cup all-purpose flour
Sour cream (optional)
1.In large nonstick skillet, cook onion in 1 tablespoon oil over medium heat 18 to 20 minutes or until very soft and caramelized, stirring frequently.

2.In small bowl, whisk together apple butter, orange zest and cloves until well blended. Cover and refrigerate until ready to serve.

3.With largest holes of box grater, grate potatoes. In large bowl, beat eggs; stir in green onions, salt and pepper. Add flour, potatoes and cooked onions and toss until well combined. Makes about 4 cups.

4.Line rimmed baking pan with paper towels. In large nonstick skillet, heat one-third of the oil (about 1/4 cup) over medium heat. In batches, drop 1/4 cupfuls potato mixture into mounds in skillet. With spatula, press potato mixture into 3-inch patties. Cook 6 to 8 minutes or until golden brown, turning once halfway through cooking. Transfer latkes to prepared baking pan; keep warm. Repeat with remaining oil and potato mixture. Makes 16 latkes.

5.Serve latkes with Spiced Apple Butter and sour cream, if desired.


Approximate nutritional values per serving: 

292 Calories, 21g Fat (3g Saturated), 46mg Cholesterol,
109mg Sodium, 23g Carbohydrates, 2g Fiber, 3g Protein

Chef Tip:
Spiced Apple Butter can be prepared, covered and refrigerated up to 3 days in advance.