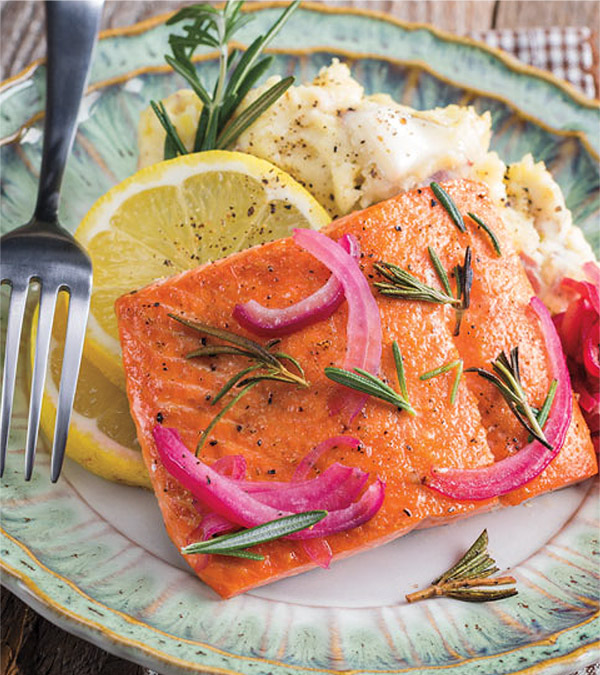 Shop Ingredients Click to See How-To Video!


Broiled Salmon with Red Onion and Rosemary
Prep: 20 minutes
Broil: 11 minutes • Serves: 4
4
boneless salmon fillets (about 1-1/2 pounds)
2
teaspoons olive oil
3
tablespoons fresh lemon juice
1/2
teaspoon fresh cracked black pepper
1/2
teaspoon garlic powder
1/4
teaspoon salt
2
sprigs rosemary, cut into small sprigs (2 tablespoons) plus additional sprigs for garnish (optional)
1/2
small red onion, thinly sliced (about 1/2 cup)
Lemon slices for garnish (optional)
1.Place oven rack 4 to 5 inches from broiler. Preheat broiler to high. Lightly brush both sides of salmon with oil. In 13 x 9-inch baking dish, place salmon, skin side up, and broil 3 to 4 minutes or until skin is lightly browned.

2.With wide spatula, turn salmon. Pour lemon juice over salmon and sprinkle with pepper, garlic powder and salt. Broil salmon 6 minutes. Evenly sprinkle rosemary and red onion over top of salmon; broil 2 to 3 minutes or until salmon is almost opaque throughout and internal temperature reaches 145°. Slip spatula between salmon skin and flesh to remove skin.

3.Serve salmon garnished with rosemary sprigs and lemon slices, if desired.


Approximate nutritional values per serving: 

306 Calories, 15g Fat (2g Saturated), 107mg Cholesterol, 231mg Sodium,
2g Carbohydrates, 0g Fiber, 1g Sugars, 0g Added Sugars, 39g Protein

Chef Tip:
Pair this salmon with steamed new potatoes for a simple, healthy and delicious meal.