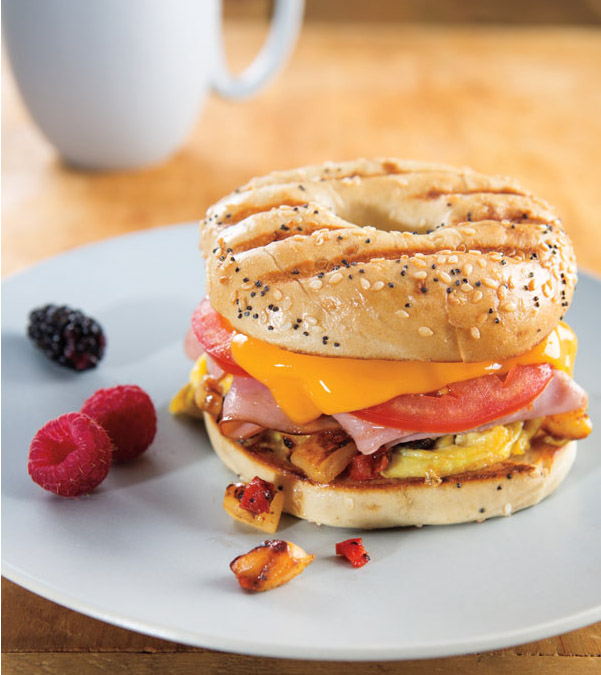 Shop Ingredients Click to See How-To Video!


Breakfast Panini
Prep: 10 minutes
Cook: 20 minutes • Serves: 4
1-1/2
teaspoons olive oil
1-1/2
cups frozen potatoes O'Brien, thawed and drained
6
large eggs
1
tablespoon whole milk
1/8
teaspoon salt
1/8
teaspoon ground black pepper
4
bagels or English muffins, split or 8 slices bread
8
thin slices tomato
4
ounces thinly sliced ham
4
slices American or Cheddar cheese
Nonstick cooking spray
1.In large skillet, heat oil over medium heat; add potatoes and cook 5 to 8 minutes or until browned, stirring occasionally. Meanwhile, preheat heavy skillet or grill pan over medium heat.

2.In large bowl, whisk eggs, milk, salt and pepper. Add egg mixture to skillet with potatoes; cook 2 to 3 minutes or until eggs are set, stirring occasionally. Spoon one-quarter of the egg-potato mixture onto bottom halves of each bagel; top each with 1 slice ham, 1 slice tomato, 1 slice cheese and top half of bagel. Spray both sides of sandwiches with nonstick cooking spray.

3.In batches if necessary, cook sandwiches 6 to 8 minutes or until bagels are golden brown and cheese melts, turning once and pressing down occasionally with large spatula.


Approximate nutritional values per serving: 

520 Calories, 15g Fat (6g Saturated), 306mg Cholesterol,
1255mg Sodium, 64g Carbohydrates, 3g Fiber, 29g Protein

Chef Tip:
For a healthier version, replace 6 whole eggs with 9 to 10 egg whites and cheese with reduced fat or fat-free cheese.