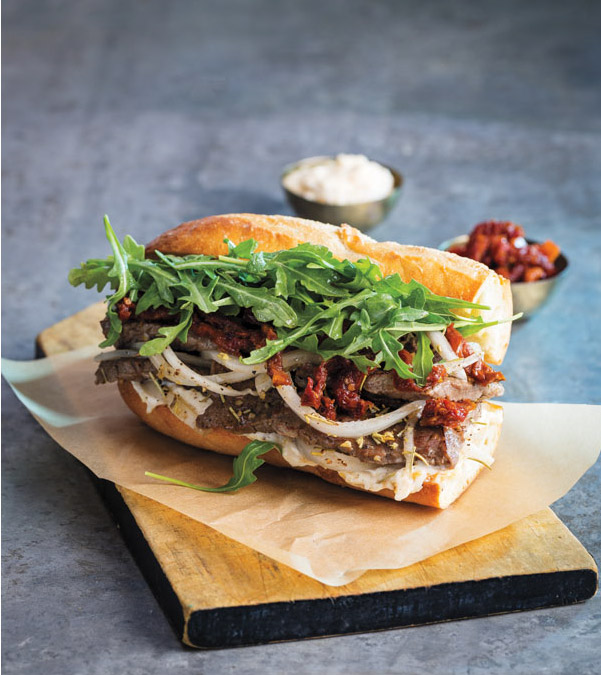 Shop Ingredients Click to See How-To Video!


Balsamic Steak Sandwich
Prep: 20 minutes plus standing
Cook: 7 minutes • Serves: 4
1-1/4
pounds top round beef steak
2
garlic cloves, minced
1/4
cup balsamic vinegar
1
tablespoon plus 1-1/2 teaspoons olive oil
3/4
teaspoon dried rosemary
3/4
teaspoon Worcestershire
1
(14-ounce) French baguette, halved lengthwise and cut crosswise into quarters
1/4
cup garlic aioli mayonnaise
2
tablespoons grated Parmesan cheese
1/2
medium white onion, thinly sliced
1/2
jar (6.7 ounces) sun-dried tomatoes in oil, drained and thinly sliced
2
cups loosely packed arugula
1.Preheat oven to 350°. Place steak on cutting board; with flat side of meat mallet, pound to 1/2-inch thick. Thinly slice steak against the grain. In medium bowl, whisk garlic, vinegar, 1-1/2 teaspoons oil, rosemary and Worcestershire; add steak and let stand at room temperature 15 minutes.

2.Place bread, cut side up, on rimmed baking pan; bake 8 minutes or until toasted. In small bowl, stir mayonnaise and cheese.

3.In large skillet, heat remaining 1 tablespoon oil over medium-high heat; add onion and cook 2 minutes or until almost tender, stirring occasionally. Remove steak from marinade and add to skillet; discard marinade. Cook 4 minutes or until steak is browned and onion is tender, stirring occasionally.

4.Spread bottom halves of bread with mayonnaise mixture; top with steak mixture, tomatoes, arugula and top halves of bread.


Approximate nutritional values per serving:

670 Calories, 28g Fat (5g Saturated), 98mg Cholesterol,
890mg Sodium, 59g Carbohydrates, 1g Fiber, 5g Sugars,
0g Added Sugars, 43g Protein