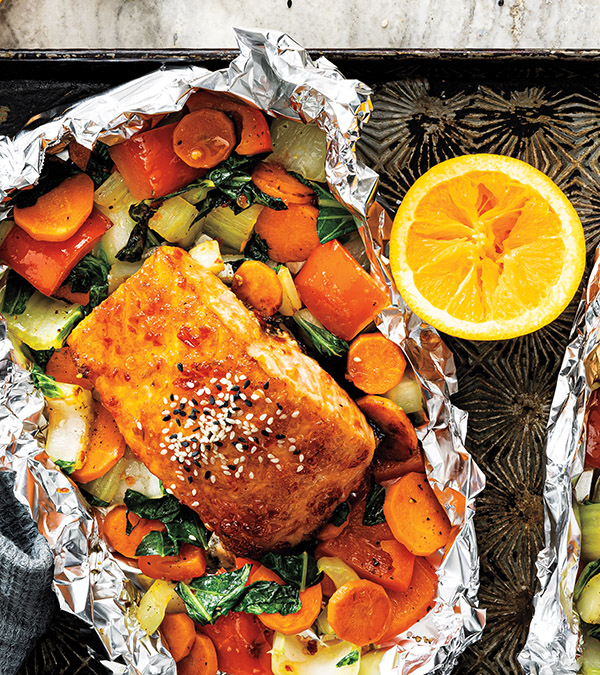 Sheet Pan Orange-Ginger Salmon Foil Packets
Prep: 20 minutes
Roast: 20 minutes • Serves: 4
1
large carrot, sliced 1/4-inch thick crosswise
1
medium red bell pepper, cut into 1-inch pieces
2
cups sliced bok choy
1-1/2
tablespoons
PICS olive oil
3/4
teaspoon
PICS salt
1/2
teaspoon
PICS ground black pepper
3
tablespoons fresh orange juice
1
tablespoon
PICS honey
2
teaspoons chili garlic sauce
1
teaspoon grated fresh ginger
4
Market 32 salmon fillets
(about 1 1/2 pounds)
Black and/or white sesame seeds for garnish (optional)
1.Preheat oven to 400°; tear 4 (12 x 24-inch) aluminum foil sheets.

2. In large bowl, toss carrot, bell pepper, boy choy, 1 tablespoon oil, 1/2 teaspoon each salt and black pepper. In small bowl, whisk orange juice, honey, chili garlic sauce, ginger, and remaining 1/2 tablespoon oil and 1/4 teaspoon salt.

3. Arrange foil sheets horizontally; divide vegetable mixture onto center of each sheet and top with salmon. Brush salmon with orange juice mixture. For each packet, fold and tightly crimp top and bottom sides of foil over salmon and vegetables; fold and tightly crimp both ends of foil.

4. Place packets on rimmed baking pan; roast 20 minutes or until internal temperature of salmon reaches 145° and vegetables are tender. Carefully open packets to serve; garnish with sesame seeds, if desired. Makes about 2 cups vegetable mixture.


Approximate nutritional values per serving:
316 Calories, 16g Fat, 2g Saturated Fat, 90mg Cholesterol, 566mg Sodium,
10g Carbohydrates, 1g Fiber, 8g Sugars, 5g Added Sugars, 33g Protein