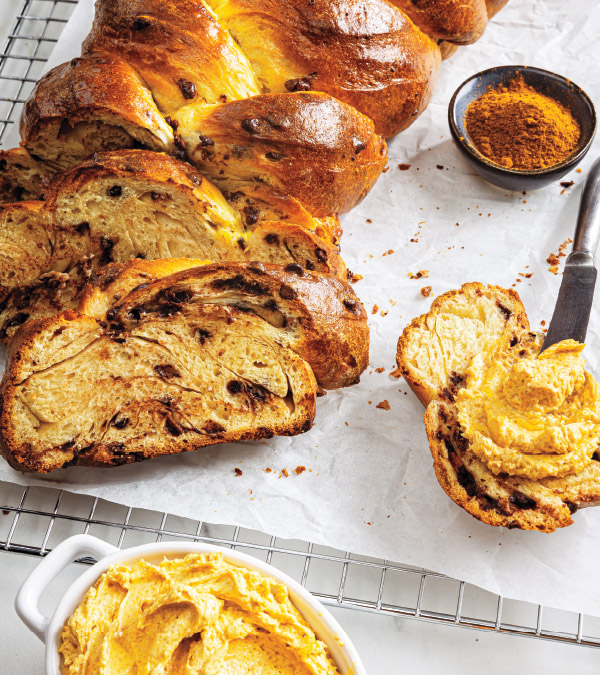 Chocolate Chip Challah Bread with Pumpkin-Maple Butter
Prep: 30 minutes plus standing and cooling
Bake: 30 minutes • Serves: 14
1/2
teaspoon
PICS vegetable oil
1
envelope (1/4 ounce) active dry yeast
4
cups
PICS bread flour
plus additional for dusting
3/4
teaspoon
PICS salt
4
PICS large eggs
3/4
cup plus 2 tablespoons
PICS unsalted butter
, 6 tablespoons melted and 1 stick softened
1/4
cup
PICS honey
1/3
cup
PICS mini chocolate chips
2
tablespoons
Full Circle pure pumpkin purée
1
tablespoon
PICS maple syrup
1/4
teaspoon pumpkin pie spice
1. Grease large bowl with oil. In small bowl, whisk yeast and 1/2 cup warm water (no more than 110°); let stand 5 minutes.

2. In bowl of stand mixer, stir 2 cups flour and 1/2 teaspoon salt. Attach dough hook to mixer; with mixer on medium-low speed, slowly add 3 eggs, 1/4 cup melted butter, honey and yeast mixture. In 2 batches, add remaining 2 cups flour, mixing until combined and scraping bowl occasionally. Increase speed to medium, knead dough 5 minutes or until soft and comes together.

3. On lightly floured work surface, knead dough 1 minute or until smooth and elastic; form into a ball and place in prepared bowl. Cover bowl with plastic wrap; let stand in warm place 1 hour or until dough has almost doubled in size.

4. Gently punch down dough and sprinkle with chocolate chips; on lightly floured work surface, reshape dough into ball. Place dough in same bowl; cover with plastic wrap and let stand 30 minutes.

5. Line rimmed baking pan with parchment paper. On lightly floured work surface, gently punch down dough and roll into 18 x 13-inch rectangle; cut crosswise into 3 (13 x 6-inch) rectangles. Brush dough with 2 tablespoons melted butter. Starting with long side of each piece of dough, tightly roll up dough; with hands, carefully roll each into 17-inch-long rope and place close together on prepared pan.

6. With paring knife, carefully cut 1/2-inch-deep slit down center of each rope. Pinch 1 end of each rope together and tuck under; braid ropes together. Pinch ends of dough braid together and tuck under; let stand 30 minutes.

7. Preheat oven to 350°. In small bowl, whisk 1 tablespoon water and remaining egg; carefully brush over dough and bake 30 minutes or until golden brown. Transfer bread to wire rack; cool completely.

8. In medium bowl, stir remaining 1/2 cup softened butter, pumpkin purée, syrup, pumpkin pie spice and remaining 1/4 teaspoon salt. Makes about 3/4 cup.

9. Cut bread into 14 (1-inch-thick) slices; serve with Pumpkin-Maple Butter.


Approximate nutritional values per serving (1 slice bread, 2-1/2 teaspoons butter):
293 Calories, 14g Fat (8g Saturated), 77mg Cholesterol, 143mg Sodium,
34g Carbohydrates, 2g Fiber, 8g Sugars, 8g Added Sugars, 7g Protein

Chef Tip:
For most accurate measurement, weigh flour: 1 cup bread flour should weigh 120 grams.