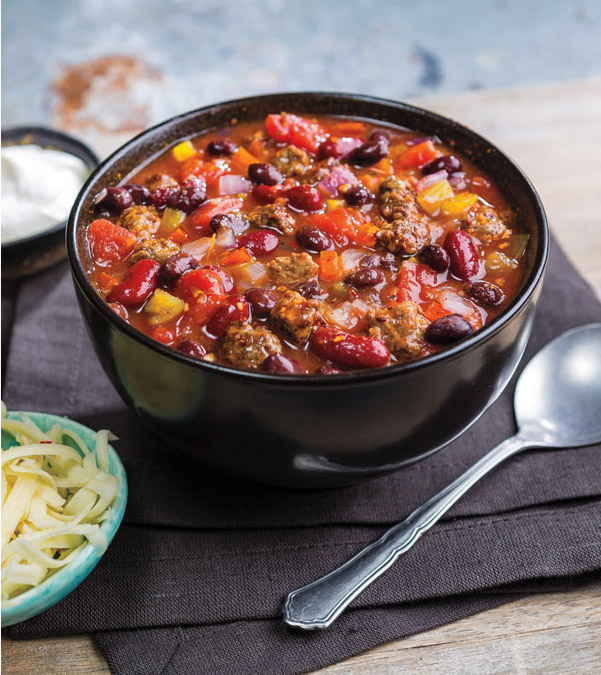 Shop Ingredients Click to See How-To Video!


Slow Cooker Carne Asada Cubed Steak Chili
Prep: 15 minutes
Slow Cook: 4 hours • Serves: 8
2
pounds cubed steak, cut into 1/2-inch pieces
2
tablespoons carne asada seasoning
1
tablespoon olive oil
1
container (32 ounces) low sodium beef broth
1
can (16 ounces) chili beans in spicy chili sauce
1
can (15 ounces) reduced sodium black beans, drained and rinsed
1
can (14.5 ounces) fire-roasted diced tomatoes
1
can (8 ounces) tomato sauce
1
can (4 ounces) diced green chiles
3
garlic cloves, minced
2
medium carrots, chopped
1
medium red onion, chopped
1
medium yellow bell pepper, chopped
Shredded pepper Jack cheese, sliced jalapeños and sour cream for garnish (optional)
1.In medium bowl, toss steak and seasoning; cover and refrigerate 1 hour or overnight.

2.In large skillet, heat oil over medium-high heat. Add steak; cook 5 minutes or until browned, stirring occasionally.

3.Transfer steak to 5- to 6-quart slow cooker; stir in remaining ingredients except garnishes. Cover and cook on high 4 hours or low 8 hours. Serve topped with cheese, jalapeños and sour cream, if desired. Makes about 16 cups.


Approximate nutritional values per serving: 

336 Calories, 10g Fat (3g Saturated), 67mg Cholesterol,
888mg Sodium, 28g Carbohydrates, 9g Fiber, 5g Sugars,
0g Added Sugars, 32g Protein