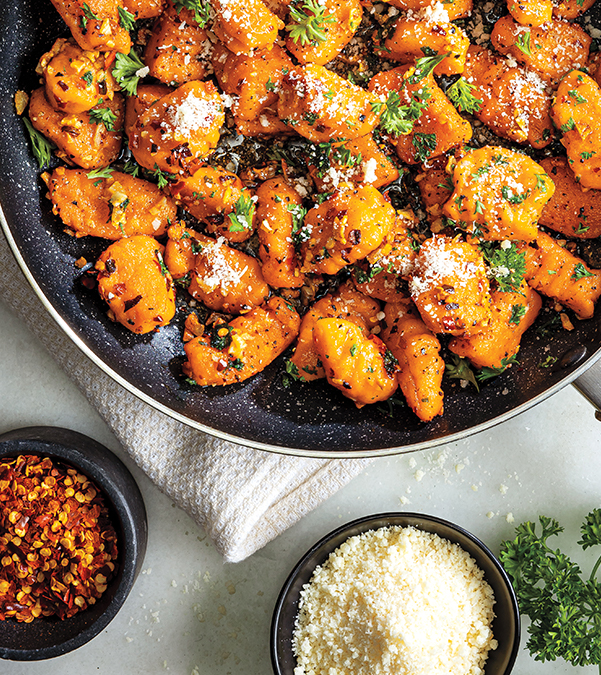 Homemade Tomato Gnocchi
Prep: 20 minutes
Cook: 24 minutes • Serves: 4
2
cups
PICS all-purpose flour
plus additional for dusting
2
Market 32 russet potatoes
, peeled and cut into 1-inch pieces (about 1½ pounds)
5
tablespoons
PICS unsalted butter
2
tablespoons
PICS tomato paste
2
PICS large eggs
1
teaspoon
PICS salt
2
tablespoons plus 2 teaspoons
PICS olive oil
1/4
teaspoon
PICS crushed red pepper flakes
3
garlic cloves, minced
2
tablespoons chopped fresh parsley
1/2
teaspoon
PICS black pepper
Grated Parmesan cheese for garnish (optional)
1.Line 2 rimmed baking pans with parchment paper; dust 1 with flour. In medium saucepot, heat potatoes and enough cold water to cover to a boil over high heat. Reduce heat to medium; simmer 13 minutes or until potatoes are very tender. Drain and return to saucepot; add 2 tablespoons butter. With potato masher, mash until slightly chunky.
2.In food processor, purée potato mixture and tomato paste just until smooth, scraping down bowl occasionally. Add eggs, ½ teaspoon salt and flour; pulse 20 times or just until mixture comes together.
3.Heat large saucepot of salted water to a boil over high heat. On lightly floured work surface, knead potato mixture 30 seconds or until a smooth dough forms, dusting with additional flour as necessary to prevent sticking; divide into 4 equal pieces. Roll 1 piece of dough into ½-inch-thick log; cut log crosswise into 1-inch pieces. Gently roll a fork over each gnocchi and transfer to flour-dusted pan. Repeat with remaining 3 pieces of dough.
4.In 2 batches, cook gnocchi in boiling water 3 minutes or until all gnocchi float to the top and inside is light and fluffy, gently stirring occasionally; with slotted spoon, transfer to second prepared pan, add 1 teaspoon oil and toss.
5.In large skillet, heat remaining 2 tablespoons oil and crushed red pepper over medium heat 1 minute. Add garlic and remaining 3 tablespoons butter; cook 2 minutes or until garlic is fragrant, stirring frequently. Stir in gnocchi, parsley, black pepper and remaining ½ teaspoon salt; cook 2 minutes or until heated through, stirring frequently. Makes about 5 cups.
6.Serve gnocchi garnished with Parmesan cheese, if desired.
Approximate nutritional values per serving (1 1/4 cups):
633 Calories, 27g Fat (11g Saturated), 131mg Cholesterol, 638mg Sodium, 85g Carbohydrates, 6g Fiber, 13g Protein