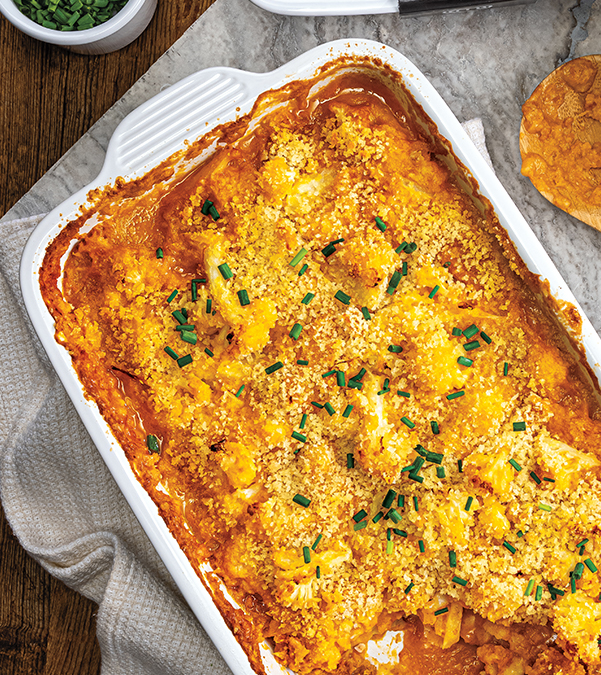 Cauliflower "Mac" & Cheese
Prep: 40 minutes
Bake: 35 minutes • Serves: 6
PICS nonstick cooking spray
3
tablespoons
PICS unsalted butter
1/4
cup
PICS all-purpose flour
3
garlic cloves, minced
2
teaspoons smoked paprika
1/4
teaspoon ground red pepper
2
cups
PICS low sodium vegetable broth
3
cups diced butternut squash
1/4
teaspoon
PICS salt
1
large head cauliflower, cut into small florets (about 8 cups)
1
cup
PICS shredded sharp white Cheddar cheese
1
cup smoked Gouda cheese, shredded (4 ounces)
1
cup
PICS panko breadcrumbs
Chopped fresh chives for garnish (optional)
1.Preheat oven to 400°; spray 3-quart baking dish with cooking spray. In medium saucepot, heat 2 tablespoons butter over medium heat; add flour and cook 1 minute, whisking constantly. Add garlic, paprika and red pepper; cook 30 seconds, whisking constantly. Add broth; cook 2 minutes, whisking constantly. Stir in squash; cover and cook 25 minutes or until squash is soft, stirring occasionally.
2.Fill large saucepot with 1/2-inch water; heat to a boil over medium heat. Add salt and cauliflower; cover and cook 5 minutes. Drain; return to saucepot.
3.Transfer squash mixture to blender and purée; return to same saucepot over low heat. With wooden spoon, gradually stir in cheeses until smooth; pour over cauliflower and toss to combine. Transfer cauliflower mixture to prepared dish.
4.In small microwave-safe bowl, heat remaining 1 tablespoon butter in microwave oven 25 seconds or until melted; stir in breadcrumbs. Evenly sprinkle breadcrumb mixture over cauliflower mixture. Bake 35 minutes or until edges bubble and top is browned; garnish with chives, if desired. Makes about 7 1/2 cups.
Approximate nutritional values per serving:
332 Calories, 18g Fat (11g Saturated), 52mg Cholesterol, 405mg Sodium, 29g Carbohydrates, 5g Fiber, 15g Protein
Chef Tip:
Divide cauliflower into 6 individual oven-safe ramekins for perfect portions.