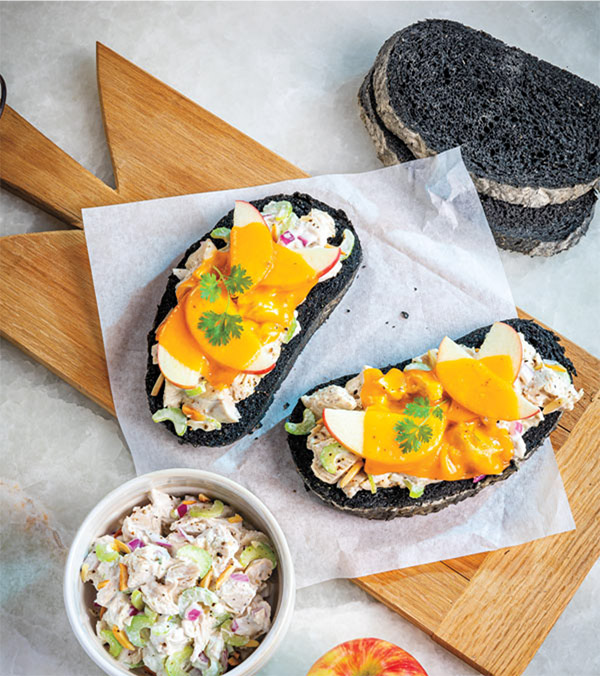 Shop Ingredients Click to See How-To Video!


Open-Faced Chicken Melt
Prep: 20 minutes
Bake: 10 minutes Serves: 4
4
(3/4-inch-thick) slices Bamboo Charcoal Boule
1/3
cup olive oil mayonnaise
1/4
cup nonfat plain Greek yogurt
2-1/2
teaspoons fresh lemon juice
1/4
teaspoon salt
1/4
teaspoon ground black pepper
2-1/4
cups chopped boneless, skinless rotisserie chicken meat
1/4
cup chopped celery
1/4
cup chopped red onion
1/4
cup slivered almonds, toasted
1/2
medium Fuji, Gala or Granny Smith apple, thinly sliced
4
slices sharp Cheddar cheese
1.Preheat oven to 375°. Place boule slices on rimmed baking pan.

2.In large bowl, whisk mayonnaise, yogurt, lemon juice, salt and pepper; fold in chicken, celery, onion and almonds. Makes about 3-1/2 cups.

3.Spread chicken mixture over boule slices; top with apple and cheese. Bake 10 minutes or until cheese melts and bread is toasted.


Approximate nutritional values per serving (1 chicken melt):
471 Calories, 20g Fat (6g Saturated), 92mg Cholesterol,
785mg Sodium, 37g Carbohydrates, 4g Fiber, 36g Protein

Chef Tip:
To toast almonds: In large skillet, cook almonds over medium heat 3 minutes or until lightly browned and fragrant, stirring frequently; transfer to plate to cool.