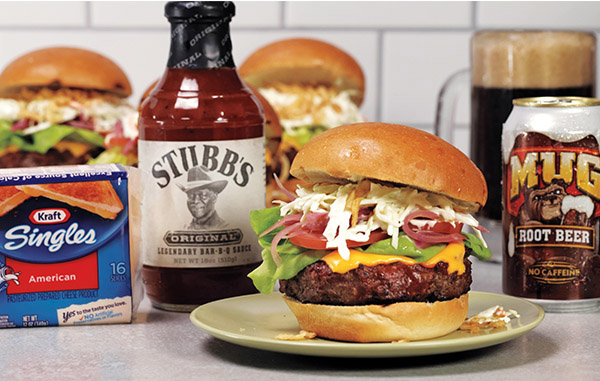 BBQ Burger with Root Beer Pickled Onions
Prep: 15 minutes plus standing and cooling
Grill: 8 minutes • Serves: 4
1
cup
Mug® root beer
2
tablespoons apple cider vinegar
1
tablespoon kosher salt
1
small red or sweet onion, halved and thinly sliced
1
cup classic coleslaw mix
1/4
cup mayonnaise
4
Market 32® 85% ground beef patties
1/4
cup
Stubb's® original legendary bar-b-q sauce
4
slices Kraft American singles
4
brioche hamburger buns
4
bibb lettuce leaves
8
slices Roma tomato
1/4
cup crispy fried onions
1. In medium saucepot, heat root beer, vinegar and salt to a boil over medium-high heat. Stir in onion; remove from heat and let stand 30 minutes. Drain onion; transfer to medium bowl and cool 10 minutes. Makes about 1 cup.

2. Prepare outdoor grill for direct grilling over medium heat. In medium bowl, stir coleslaw mix and mayonnaise; cover and refrigerate. Makes about 1 cup.

3. Place patties on rimmed baking pan; brush 1 side of patties with 2 tablespoons bar-b-q sauce. Place patties, sauce side down, on hot grill rack; cover and cook 8 minutes or until internal temperature reaches 160°, turning once and brushing with remaining 2 tablespoons sauce halfway through cooking. During last 2 minutes of cooking, top patties with singles and place buns, cut side down, on hot grill rack; cover and cook 2 minutes or until cheese is melted and buns are toasted.

4. Serve burgers in buns topped with lettuce, tomato, pickled onions, coleslaw mixture and crispy onions. Makes 4 burgers.


Approximate nutritional values per serving (1 burger):
829 Calories, 45g Fat, 18g Saturated Fat, 165mg Cholesterol, 1168mg Sodium,
66g Carbohydrates, 5g Fiber, 12g Sugars, 2g Added Sugars, 36g Protein