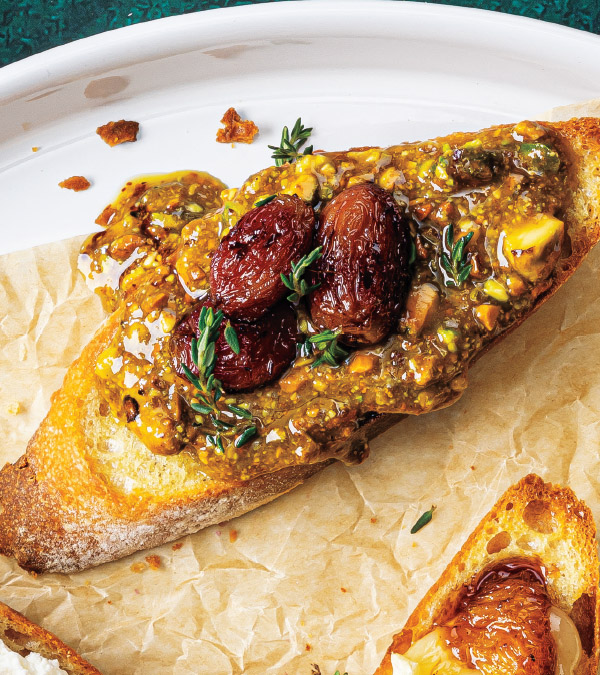 Pistachio Butter & Roasted Red Grape Crostini
Prep: 20 minutes
Roast: 25 minutes • Serves: 10
1-1/2
cups red grapes
3
tablespoons
PICS olive oil
2
tablespoons sherry vinegar
1/4
teaspoon plus 1/8 teaspoon
PICS kosher salt
1/2
(14-ounce) French baguette, sliced 1/2-inch thick crosswise
1
cup roasted unsalted pistachios
1
teaspoon
PICS honey
Fresh thyme leaves for garnish (optional)
1. Adjust oven racks to top and bottom positions; preheat oven to 400°. In medium bowl, toss grapes, 1 tablespoon oil, vinegar and 1/4 teaspoon salt; spread on rimmed baking pan and roast 18 minutes. Place baguette slices in single layer on separate rimmed baking pan; brush both sides with remaining 2 tablespoons oil. Stir grape mixture; add baguette slices to oven and roast 7 minutes or until grapes burst and baguette slices are toasted.

2. In blender, purée pistachios, honey, remaining 1/8 teaspoon salt and 1 tablespoon water on high until almost smooth. Makes about 2/3 cup.

3. Spread baguette slices with pistachio butter; top with grape mixture and sprinkle with thyme, if desired. Makes 20 crostini.


Approximate nutritional values per serving (2 crostini):
179 Calories, 10g Fat (1g Saturated), 0mg Cholesterol, 211mg Sodium,
19g Carbohydrates, 2g Fiber, 6g Sugars, 1g Added Sugars, 5g Protein