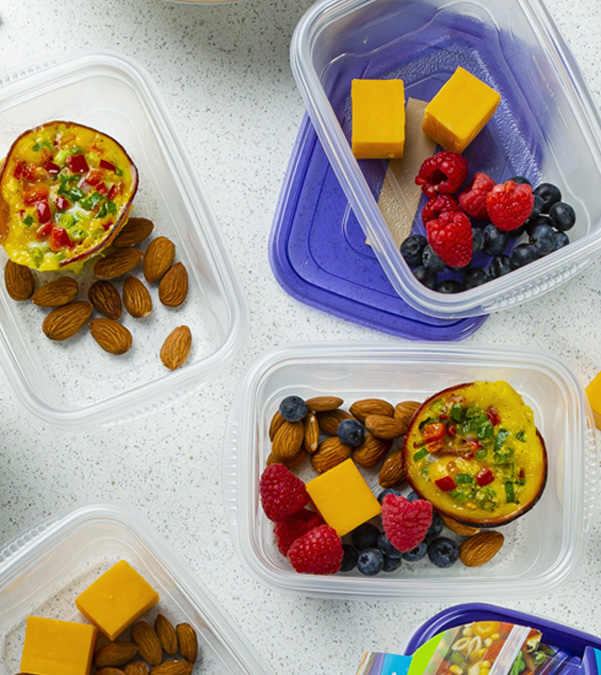 Keto Breakfast Box
Prep: 25 minutes
Bake: 15 minutes • Serves: 5
PICS nonstick cooking spray
1
cup
PICS raw natural almonds
1 1/2
teaspoons
PICS olive oil
1/2
medium red bell pepper, chopped
5
PICS large eggs
1
green onion, thinly sliced
1/4
teaspoon
PICS salt
1/8
teaspoon
PICS ground black pepper
5
thin slices
Market 32 deli ham
(about ¼ pound)
1
block (8 ounces)
PICS sharp Cheddar cheese
, cut into 1-inch pieces
1
cup fresh raspberries
1/2
cup fresh blueberries
5
(2- to 3-cup) plastic containers with lids
1.Preheat oven to 350°. Spray 5 standard muffin cups with cooking spray. Spread almonds on rimmed baking pan; bake 8 minutes or until lightly toasted and fragrant. Transfer to plate to cool.
2.In large skillet, heat oil over medium-high heat. Add bell pepper; cook 3 minutes or until crisp-tender, stirring occasionally. In medium bowl, whisk eggs; add onion, salt, black pepper and bell pepper.
3.Place 1 piece of ham in each prepared cup, pressing against bottom and sides of cups; fill with egg mixture. Bake 15 minutes or until internal temperature reaches 160°.
4.Divide cheese, raspberries, blueberries, almonds and egg cups into containers; cover with lids and refrigerate up to 5 days.
5.To serve, heat egg cup in microwave oven on high 30 seconds or until heated through.
Approximate nutritional values per serving (1 container):
479 Calories, 38g Fat (12g Saturated), 236mg Cholesterol, 588mg Sodium, 14g Carbohydrates, 5g Fiber, 25g Protein