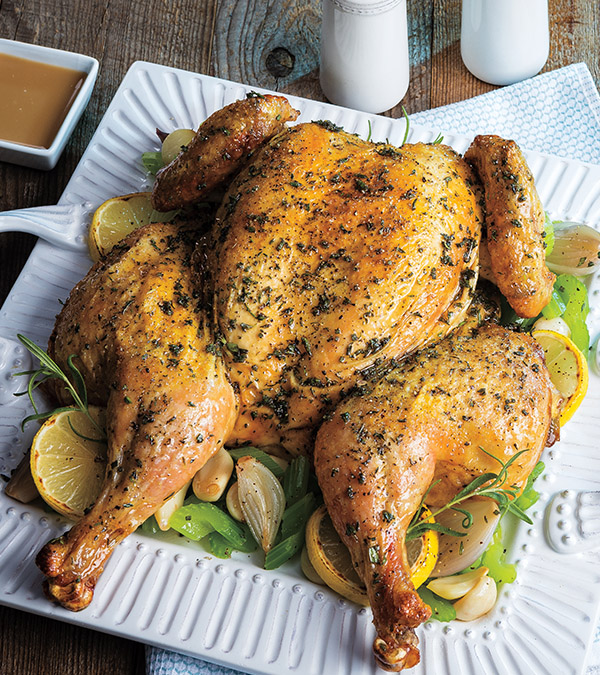 40 Cloves of Garlic Spatchcocked Chicken
Prep: 30 minutes
Roast: 55 minutes • Serves: 8
1
whole roaster chicken (7 pounds)
1
package (6 ounces) refrigerated peeled garlic cloves or 7 heads garlic, cloves separated and peeled
4
shallots, halved
1
bunch celery, chopped
1
lemon, sliced
1-1/2
cups
PICS dry sherry cooking wine
2
tablespoons
PICS olive oil
1-1/2
teaspoons chopped fresh rosemary
1-1/2
teaspoons chopped fresh sage
1
teaspoon fresh thyme leaves
1
teaspoon kosher salt
3/4
teaspoon
PICS ground black pepper
1.Preheat oven to 450°. On work surface, place chicken, breast side down. Starting at thigh end, with kitchen scissors, cut along 1 side of backbone; repeat on other side of backbone to remove bone. Turn chicken over; press down firmly on breastbone to flatten chicken. Pat chicken dry with paper towels.

2. In 3-quart baking dish, toss garlic, shallots, celery, lemon and sherry. Place chicken, breast side up, on top of vegetables; rub with oil, rosemary, sage, thyme, 3/4 teaspoon salt and 1/2 teaspoon pepper. Tuck wings behind breasts to prevent burning.

3. Roast chicken and vegetables 45 minutes; increase temperature to 500°. Roast 10 minutes or until internal temperature of chicken reaches 165°, rotating once. Transfer chicken to cutting board; loosely cover with aluminum foil and let stand 10 minutes.

4. With tongs, transfer 20 garlic cloves to blender; strain drippings from baking dish into blender. Blend on high 1 minute; strain through a fine-mesh strainer into small saucepot. Add remaining 1/4 teaspoon each salt and pepper; cook over medium-high heat 8 minutes or until reduced by half.

5. Carve chicken and serve with roasted garlic jus.


Approximate nutritional values per serving:
568 Calories, 29g Fat (8g Saturated), 166mg Cholesterol,
681mg Sodium, 9g Carbohydrates, 0g Fiber, 52g Protein