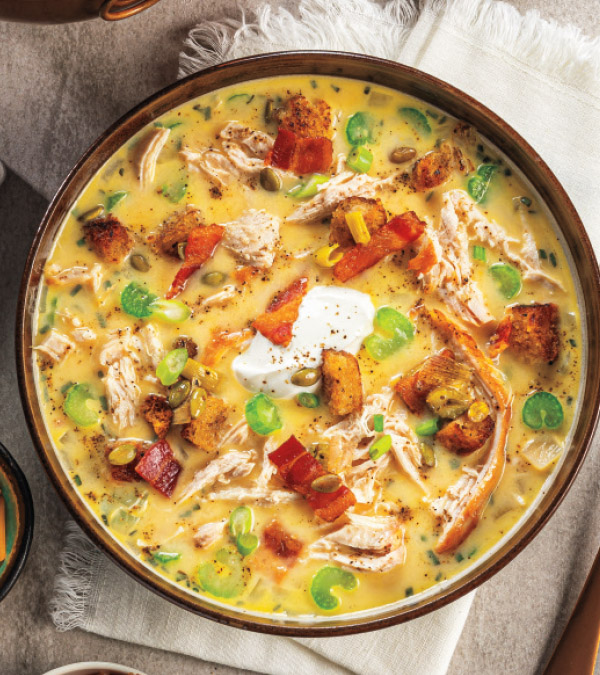 Loaded Leftover Soup with Stuffing Croutons
Prep: 25 minutes
Cook: 15 minutes • Serves: 8
Nonstick cooking spray
2
cups leftover Slow Cooker Apple-Bacon Stuffing or prepared stuffing, torn into 1-inch pieces
2
tablespoons olive oil
2
tablespoons unsalted butter
2
medium celery stalks, chopped
1
small white onion, chopped
1
container (32 ounces) chicken broth
2
cups whole milk
1
tablespoon Dijon mustard
2
cups leftover or prepared refrigerated mashed potatoes
3
cups shredded skinless leftover or cooked turkey
1
teaspoon kosher salt
1/4
teaspoon ground black pepper
2 1/2
cups shredded Cheddar cheese
1/2
cup sour cream
3
green onions, thinly sliced
1.Preheat oven to 350°; spray rimmed baking pan with cooking spray. In large bowl, toss stuffing pieces and oil; spread in single layer on prepared pan. Bake stuffing 20 minutes or until golden brown and crisp, stirring once halfway through baking; cool completely. Makes about 2 cups.
2.In large saucepot, melt butter over medium-high heat. Add celery and white onion; cook 7 minutes or until soft, stirring occasionally. Stir in broth, milk and mustard; heat to a simmer. Reduce heat to medium and whisk in potatoes; cook 2 minutes or until thickened, whisking occasionally. Stir in turkey, salt and pepper; cook 3 minutes or until heated through, stirring occasionally. Remove from heat; gradually stir in 2 cups cheese. Makes about 11 cups.
3.Serve soup topped with sour cream, green onions, croutons and remaining 1/2 cup cheese.

Approximate nutritional values per serving:
489 Calories, 30 g Fat, 15 g Saturated Fat, 119 mg Cholesterol, 1361 mg Sodium,
23 g Carbohydrates, 2 g Fiber, 7 g Sugars, 1 g Added Sugars, 30 g Protein