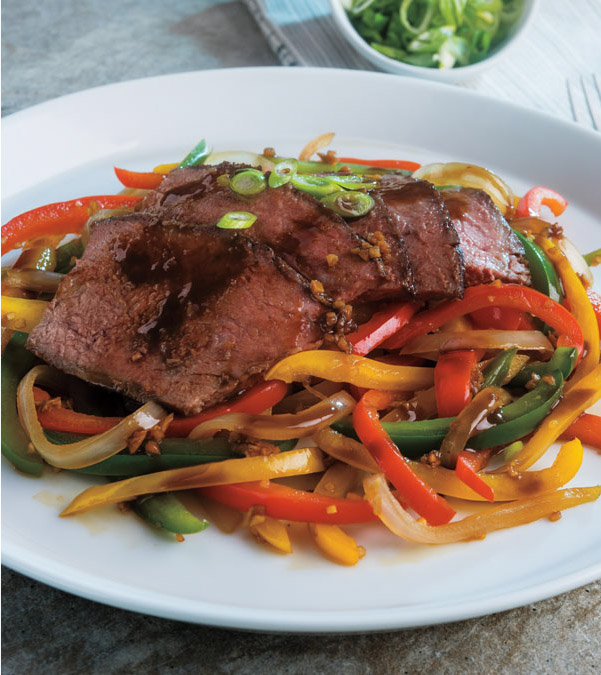 Shop Ingredients Click to See How-To Video!


Sesame-Lime London Broil with Stir-Fried Veggies
Prep: 20 minutes plus marinating and standing
Bake: 15 minutes • Serves: 12
4
garlic cloves, minced
1/2
cup less-sodium soy sauce
2
tablespoons finely minced fresh ginger
2
tablespoons fresh lime juice
2
tablespoons honey
2
teaspoons sesame oil
1
(3-pound) London broil steak
1
tablespoon olive oil
1
package (14.4 ounces) frozen pepper stir-fry vegetables
1.In large zip-top plastic bag, combine garlic, soy sauce, ginger, lime juice, honey and sesame oil. Add steak and seal bag, pressing out excess air; refrigerate at least 4 or up to 12 hours.

2.Remove steak from marinade; reserve marinade; let stand at room temperature 30 minutes.

3.Preheat oven to 375°. In large oven-safe skillet, heat oil over medium-high heat; add steak and cook 5 minutes. Turn and cook 2 minutes; transfer skillet with steak to oven. Bake 15 minutes or until internal temperature reaches 135° for medium-rare. Transfer steak to cutting board and tent with aluminum foil; let stand 10 minutes. (Internal temperature of steak will rise 5 to 10° upon standing.)

4.Heat same skillet over medium-high heat; add reserved marinade and simmer 1 minute. Cook vegetables in microwave oven as label directs; stir into skillet. Thinly slice steak against the grain; serve with vegetables and sauce.


Approximate nutritional values per serving:

372 Calories, 12g Fat (3g Saturated), 118mg Cholesterol,
835mg Sodium, 13g Carbohydrates, 0g Fiber, 9g Sugars,
6g Added Sugars, 49g Protein