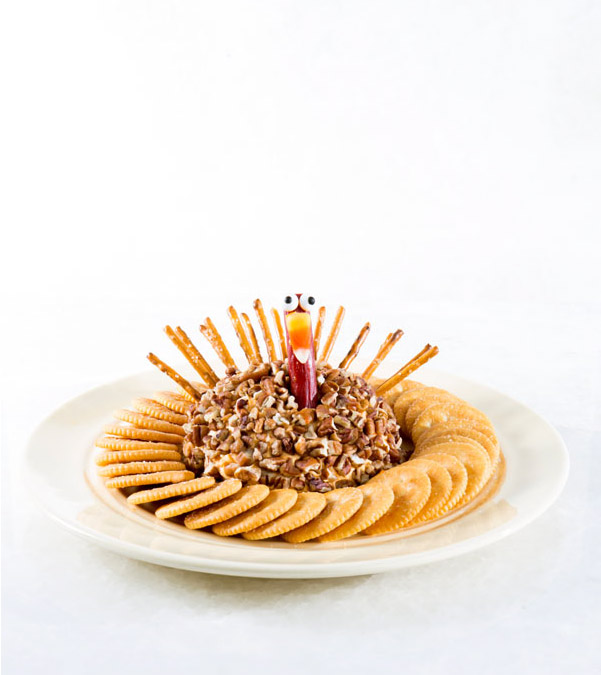 Shop Ingredients Click to See How-To Video!


Turkey Cheese Ball
Prep: 10 minutes plus freezing • Serves: 12

1
package (8 ounces) PICS Cream Cheese Brick, softened, 1 teaspoon reserved
3/4
cup sharp Cheddar cheese spread
1-1/2
teaspoons dried minced onion
1
teaspoon Worcestershire sauce
1
package (2.5 ounces) PICS Bacon Pieces
2
candy eyes
1
piece candy corn
1
(2-1/2 inch) piece PICS Beef Jerky
1/2
cup PICS Pecan Halves and Pieces
18
pretzel sticks
1
box (13.7 ounces) PICS Original Snack Crackers
1.In medium bowl, stir cream cheese, cheese spread, onion and Worcestershire sauce; fold in bacon pieces. Cover and freeze 20 minutes.

2.Transfer cheese mixture to center of serving platter; with rubber spatula, smooth into a ball.

3.Use reserved cream cheese to attach candy eyes and candy corn "nose" to beef jerky; stick into 1 end of the cheese ball for the turkey "head". Press pecan pieces onto outside of cheese ball; stick pretzel sticks into cheese ball in end opposite to the turkey head for "turkey feathers".

4.Serve Turkey Cheese Ball with crackers.


Approximate nutritional values per serving: 

352 Calories, 25g Fat (10g Saturated), 38mg Cholesterol,
550mg Sodium, 26g Carbohydrates, 0g Fiber, 3g Sugars,
2g Added Sugars, 9g Protein